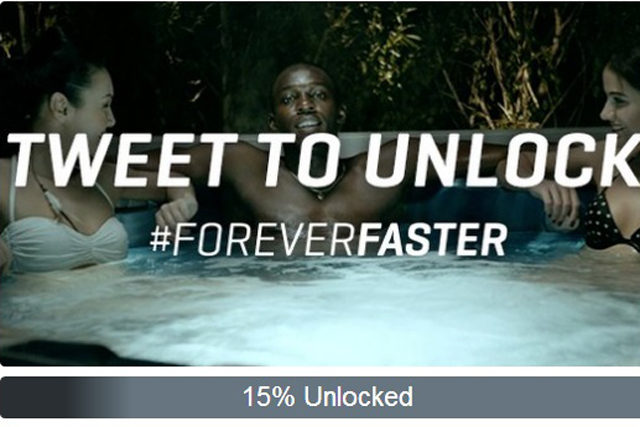 The sportswear brand has kicked off the initiative today, with teasers referencing a TV ad that consumers will in theory be able to watch online before it goes live on-air.
But the growth in the number of retweets needed to unlock the ad before it breaks on 7 August does not appear to be on-track.
At the time of writing, the campaign is according to a graph on Puma's Twitter account, only "15% unlocked", with retweet numbers in the hundreds rather than thousands.
To raise awareness of the "flock to unlock" aspect of the campaign, Puma-sponsored sportsmen and sportswomen have been recruited to tap into their Twitter fanbases. They include sprinter Usain Bolt and footballer Mario Balotelli.
Are you #ForeverFaster? Unlock our latest TV spot on Twitter and see it before the rest of the world. http://t.co/RKFmPpdFFy
— PUMA (@PUMA)
August 4, 2014
Only days until the #ForeverFaster film launch. Until then, we'll be right here. In this hot tub. With this guy… pic.twitter.com/UbmrUdwBBE

— PUMA (@PUMA) August 4, 2014
The activity is part of Puma's ongoing 'Faster Forever' campaign and was created in conjunction with Twitter and DigitasLBi.
'Faster Forever' was launched at the start of 2014 and has been devised to align Puma's sportswear and lifestyle products under a single global banner.
Earlier this year, Puma was announced as the new kit partner for Arsenal, ending rival Nike's two-year sponsorship of the Premiership team.