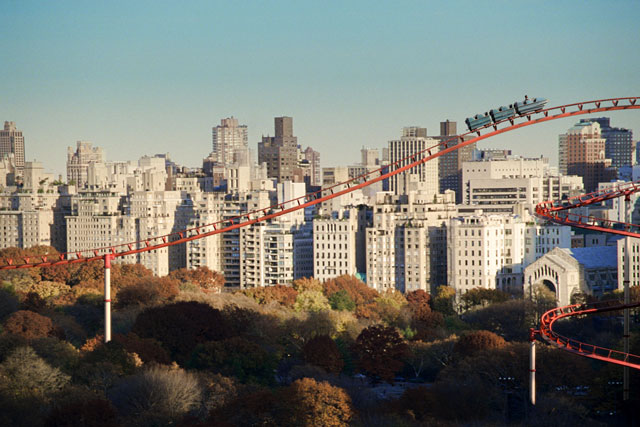 When Bartle Bogle Hegarty picked up the modest-sized account of a Somerset dairy brand in 2010, the agency could surely not have predicted the titanic impact its first campaign would have. It's nice for BBH to know, then, that the all-eggs-in-one-basket X Factor spot that made organic hip (and won the agency the Marketing Society's Grand Prix) is still liked by the general public nearly a year on.
According to 2,000 people surveyed by OnePoll for Campaign, the average Joe affords the work a positive 6.28 out of ten for how impressed they are with it. Charmingly, the spot is most popular with punters from the West Country, whence Yeo Valley hails.
Barclaycard's "rollercoaster", a follow-up to its memorable "waterslide" work, was the most popular of the ten BBH campaigns surveyed. The ad shows off the benefits of the contactless Barclaycard through a New York worker who flies his way around the city flashing his plastic to Boston's More Than A Feeling. Women liked this ad even more than men, giving it a 7.17 out of ten for impact.
Another Barclays ad suffered in comparison, with a score of 5.31, when also taking into account how much it makes the brand desirable and how likely punters are to tell friends about it. But with a brief directed at getting customers to give more love to their ISA accounts, it was never going to be able to compete with the "oooh" factor of a futuristic credit card. The spot nevertheless resonated with the pension-minded over-55 age group.
More than half of the ten campaigns pulled in enviable results, including a hard-hitting ad for Barnardo's (again, the over-55s gave it the highest mark of all age groups with a 7.27 for impact). A Lynx ad featuring hot models (sorry, angels) tossing their halos on the floor as they succumb to the temptation of a boy plied with the body spray was enjoyed by both sexes, who awarded it a 5.94 out of ten for how desirable it made the brand.
Least favoured was a poster campaign promoting Google's new voice search technology (remember those phonetic si-neh-mar-tymz ads?). It was awarded a deflated 4.42 out of ten overall.

Bartle Bogle Hegarty's overall average scores. (Each ad rated out of 10)

Barclaycard - Rollercoaster 6.24
Barnardo's - Turnaround 6.24
Audi - Beauty and the beasts 5.99
Lynx - Angels 5.90
Yeo Valley - Rap 5.86
Kronenbourg 1664 - Madness 5.64
Barclays - Bouncy castle 5.31
Matalan - Forever summer 5.13
KFC - Emergency chairs 5.09
Google - Voice search 4.42

Source: OnePoll Research. Sample: 2,000 people (1,029 female, 971 male).