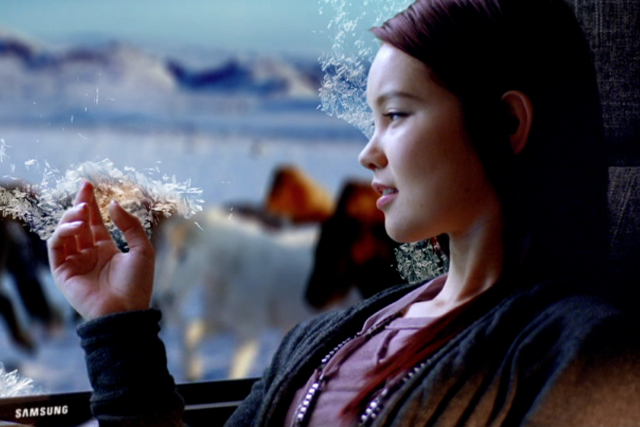 The classic 60-second TV ad isn't dead yet. At least, that's what seems to be the case from the results of the CHI & Partners Punter Appeal survey, where Campaign asked 2,000 members of the public to rate ten of the agency's ads.
In fact, the public's five favourite pieces of CHI's work were all TV spots, each of them a minimum of 40 seconds in length.
Topping the list was a 60-second ad for Samsung, which aimed to show off the quality of the brand's 3D TVs. The spot, which featured commuters substituting a train's windows for Samsung TVs, achieved an average rating of 6.13, with 6.6 scored for how much the public enjoyed the ad.
Following closely behind was CHI's ad for Anchor celebrating the butter brand's 125th birthday. The secret of the TV spot, which showed cows coming together for a party, was in the attention to detail - every scene contained a humorous reference or comic set piece, whether it was "cow-eoke" or the cow quartet dressed as the Village People. The comedy certainly resonated with the public, which awarded it an average score of 6.07.
If CHI's TV ads were gaining positive feedback from the public, the agency's digital and print work struggled to get a similar response.
The X Factor's problems - from stroppy judges to falling ratings - have been well-documented in recent weeks, and CHI's digital work promoting TalkTalk's sponsorship of the show also failed to resonate with our panel, which awarded it a disappointing overall score of 4.3.
The agency's work for The Times - a series of press ads promoting its membership scheme - fared little better, achieving an overall mark of 4.33, while its sister title, The Sunday Times, was awarded 4.57 for its "Rich List" campaign.
After such a positive start, those figures dragged CHI's overall rating down. But its executive creative director, Jonathan Burley, has worked hard to build a strong creative department, which has welcomed the likes of Jim Bolton, Monty Verdi and Barney Cockerell in recent months. With a new team in place and their feet under the table, all eyes will be on CHI's creative output in 2012.

CHI's Ten ad campaign's rated
1. Samsung - Smart TV - 6.13
2. Anchor - 125 years - 6.07
3. TalkTalk - Home - 5.93
4. Best Buy - We love what we do - 5.70
5. Argos - Get it now - 5.33
6. Argos - Chad Valley - 5.27
7. British Gas - Planet Home - 5.10
8. The Sunday Times - Rich List - 4.57
9. The Times - Plus - 4.33
10. TalkTalk - The X Factor - 4.30

Source: OnePoll Research. Sample: 2,000 people (1,020 female, 980 male).
All ratings scored out of 10.