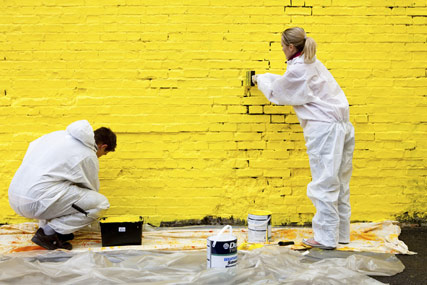 Sometimes it's the simplest ideas that charm. A case in point is Euro RSCG's first campaign for Comet, after it lured the business away from Saatchi & Saatchi last year.
The ads, one of which has Comet staff arranging a pyramid of food blenders filled with milk and fruit to create an instant rainbow of colour, was named as the agency's most popular work by the 2,000 people surveyed by OnePoll for Campaign, recording 6.45 out of ten for how much people were impressed by the ad.
Of the remaining nine ads judged, around half pulled in decent scores. An outdoor campaign for Kraft's Belvita breakfast biscuit, where a copywriter sits in Euston Station uploading notes about passengers on to a billboard (with brand references), was applauded with a score of 6.23 for how impressive the campaign was.
Meanwhile, a Dulux ad showing how easy it is to repaint a baby's bedroom (were it to pop out a different sex from the one expected) scored 5.97 for the same criteria.
Still in the healthy zone was a spot for Yakult, the "good bacteria" brew, which played on the comedy scenario of not "listening to your gut". Impressed punters gave it a palatable 6.05.
Regrettably, five out of the ten ads were awarded average marks, slipping into the four out of ten bracket for brand appeal, and whether the viewer would tell a friend about the ad.
A Peugeot ad titled "whodunnit", showing a car mysteriously sinking into a swimming pool at night, scored just 4.89 overall - perhaps the ad's scenario stretched credulity just a little too far.
Continuing on the pool theme was a Credit Suisse ad, starring its ambassador Roger Federer peacefully floating fully clothed. While it hit its target audience by being favoured by the older, more affluent viewers, it was not hugely impressionable, with a 4.75 average.
Not surprisingly, the perfectly targeted Clearasil idents for the Skins TV series were preferred by 18- to 25-year-old viewers. The campaign, the least popular of the ten, was the only one preferred by the boys. Which figures, considering they all feature plenty of snogging.

Euro RSCG's Top 10 ads

Comet Come and play - 5.88
Belvita Tactical London outdoor - 5.66
Dulux Walls, let's colour - 5.54
Yakult Listen to your gut - 5.48
Chivas Virtuous circle - 5.24
V05 Headless - 4.99
Peugeot Envy, whodunnit - 4.89
Citroen Orla Kiely collaboration - 4.77
Credit Suisse Helping Roger Federer relax - 4.75
Clearasil Skins idents - 4.62

Source: OnePoll Research.
Sample: 2,000 people (1,028 female, 972 male). All ratings scored out of
10.