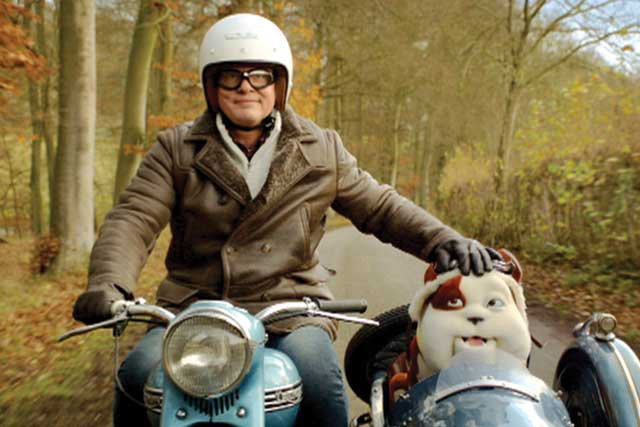 Despite the turmoil over the past 12 months at WCRS (when the agency lost its third chief executive in as many years, as well as its creative directors), the Engine-owned shop managed to produce work that was at least consistent.
The problem is that this work is consistently satisfactory, rather than sparkling. While the ten campaigns scored by 2,000 members of the public came out with average scores between 4.53 and 5.95, nothing seemed to either particularly excite or dismay the punters. Perhaps this makes WCRS a safe pair of hands for conservative clients.
Coming in at the top at 5.95 overall is a spot for Churchill, starring the familiar bulldog mascot and the actor Martin Clunes taking a motorcycling trip through the country and sorting out potential disasters along the way. The 55 years-plus generation enjoyed the ad the most.
Three ads for Sky seemed to do the job for the public - they received scores ranging from 5.64 and 6.25 out of ten in the category of how impressed viewers were with it. A spot promoting Sky Movies at Christmas, which features a montage of classic films such as Singin' In The Rain, obviously charmed and especially appealed to women.
Recent work for The Sun received middling results. One, which celebrated the start of the new football season with an animation created by Richard Swarbrick and replicating a famous Wayne Rooney goal, was critically praised but brought home a score Manchester United fans wouldn't be proud of (an average 4.53 out of ten). The other spot fared better, achieving an average score of 5.23.
The Royal Navy ad scored 5.36, but in the category of how likely viewers were to tell their friends about it, the response was rather inert. It scored the second-lowest among the ten ads - not very encouraging if it aimed to create a social buzz around the brand among young people.
If this survey is meant as a crude way of gauging an agency's creative vivacity, it doesn't take a genius to surmise that, in this area, WCRS could be doing a lot more.
How WCRS scored
Churchill - New dawn - 5.95
Sky Movies - Coming home - 5.74
Bupa - Chickens - 5.44
Royal Navy - Engineers - 5.36
BMW - Joy 3 Series - 5.23
The Sun - Let's make it great, Britain - 5.23
Sky Atlantic - Listen - 5.20
Santander - Lewis & Jenson- 5.18
Sky Broadband - Emperor - 5.15
The Sun - Football, brought to life - 4.53

Source: OnePoll Research. Sample: 2,000 people (1,070 female, 930 male).