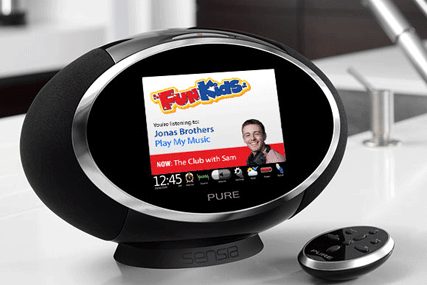 Radio manufacturer Pure Digital recently launched "Sensia", its first DAB and WiFi radio, which is able to show artist and track information, station schedules and promotions, and advertising, using the same technology as the iPhone.
Robin Pembrooke, group director online and interactive at Global Radio, said: "There is quite strong research to show people's recall of messages improves when listening and seeing messages, so the effectiveness of the ads improves. This technology means advertisers are able to get visual messages to consumers they weren't able to before."
Although initially, ad opportunities will feature sponsorship of shows, Pembrooke said Global Radio was working on synchronising audio display with on air-audio to allow spot ads.
Folder Media has developed technology for its clients, including Folder Media station Fun Kids, Jazz FM and NME Radio, which can create images for any of device supporting Radio DNS.
Matt Deegan, creative director of Folder Media, said many listeners expected a "compelling visual experience" and Folder Media was pleased to be able to make this a reality on a system that any manufacturer could easily support.
Stations that offer the service include Capital, XFM, Classic FM, Galaxy and LBC from Global Radio, Absolute Radio, Absolute Xtreme and Absolute Classic Rock, Bauer Media's Kiss, Fun Kids, Jazz FM, NME Radio