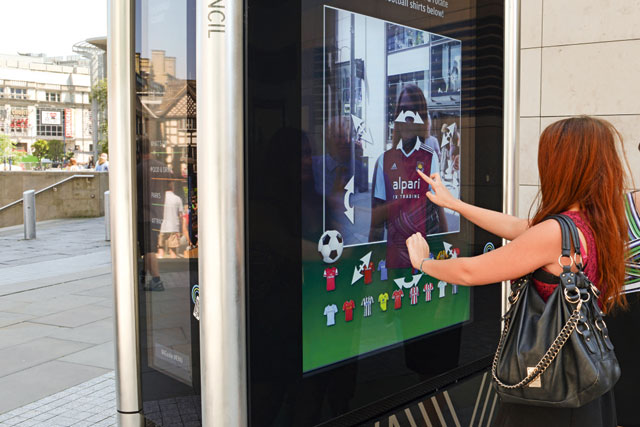 Shoppers in Manchester's throbbing city centre were assaulted last week by a huge dollop of creative chutzpah and some of the freshest advertising thinking ever to have hit the city's streets.
Hordes of shoppers ran along a specially laid track between interactive CityLive screens, starting with a selfie and a text to donate to Macmillan Cancer Support and ending with a tap on the screen to generate a runner time and a congratulatory photo to share socially.
In other venues, passers-by were stopped in their tracks by voices emanating from dark CityLive screens.
A light slowly shone more brightly to illuminate a local homeless person while they told their story, and viewers were encouraged to press their hand on theirs on the screen and to get involved with the Booth Centre.
This was the week when the Havas Work Club founder Andy Sandoz and the Razorfish creative director Malin Hanås revealed the fruits of a summer of feverish activity and dedication after Campaign selected them to compete in a contest that would push MediaCo Outdoor's new interactive CityLive sites to their limits.
Sandoz and Hanås were each asked to pick a multi-agency team, including a student, and charged with creating a campaign for the highly interactive CityLive screens that would kick down any barriers to creative thinking in digital out-of-home.
Their campaigns – for charities they feel passionately about – will be judged for their creativity and interactivity by a panel that comprises VCCP's executive creative director, Darren Bailes, the Media­Com chief strategy officer, Sue Unerman, Campaign's editor-in-chief, Claire Beale, MediaCo Outdoor's commercial director,
Richard Blackburn, FTP Concepts' managing director, Martin Ayrton, and Enigma's co-founder Andrew Newman. Support was given to both teams by FTP and Enigma.
The victorious team will win a two-week CityLive campaign, worth £50,000, for their charity and a Pebble smartwatch for each member.
Congratulations and thanks must go to both teams, however, for devoting huge amounts of time and energy pro bono and for delivering such innovative campaigns at breakneck speed.
Sandoz's mission at the start of the challenge was to attempt to "break the machine – and then come back a bit".
The machine held good. But new ground in DOOH was broken.

Who should win? Get involved with the #citylivechallenge. The winner will be revealed, along with a film and photos from the live campaigns, in Campaign and on campaignlive.co.uk next month


---
Team Sandoz: This is how we did it
Marathons are hard. Months of training, miles of pain. Miles of nipple pain.
Yes, there are great supporters, a nice man with a tinfoil blanket and an amazing sense of personal achievement. But it's an awful long way. And when you hit that wall… you hit it alone.
It's not for everyone. Macmillan Cancer Support is for everyone. Everyone connected with cancer. That's about 17 million of us in the UK. Including my father and, therefore, me.
Macmillan believes in togetherness, positive action and being there when it counts – live and local. Macmillan believes no-one should face cancer alone.
Now, the internet probably doesn't understand the marathon. The internet is about sharing. Collaboration. Making things easier through technology. The internet would innovate the marathon. The internet probably believes no-one should face marathons alone.
AdRun is the first of its kind – according to my two-minute Google search. A crowdsourced marathon run between ads. Every bit as ridiculous as it sounds. The Great Short Run, if you like.
One hundred and thirty-three yards of track-running straight up Market Street between two CityLive units. You donate a bit, press start on one screen, take a selfie, run (a bit), press stop on the other screen and share your time and photo socially. Three hundred and forty-seven individuals running 133 yards creates 26.2 miles. Or a marathon. A crowdsourced one. An easy one.
Mancs are doing their bit!
Using the advertising technology in the city to create value, not just messages. Getting local people to not just see Macmillan but to do something positive with Macmillan. It should be fun. A fun run for the sharing economy. Marathons for the rest of us.
By the way, if you have read this far… please text "RNNR70 £3" to 70070 to donate £3 to our innovative cause. Do your bit too – for advertising and cancer support. Thanks.

Team Hanås: This is how we did it
The challenge when presented with such amazing technical opportunity is how to keep the campaign human. Big data shouldn't overthrow big emotion. We were determined the technology in our work should appear invisible to the audience, simply enabling the right message to reach the right people at the right time.
Our client, the Booth Centre in Manchester, told us its biggest issue wasn't fundraising but changing the perception of homelessness. Homeless people are regularly attacked in the street, just for the crime of being vulnerable.
At the centre, we were greeted with smiles, jokes and an incredible openness from people we'd never
met before. We decided to use the CityLive screens to tell their stories. The production company Madam stepped forward and organised the film shoot, designed to help shift perceptions by taking these personal stories from darkness into light – literally.
We filmed real people at the Booth Centre, telling their own stories, in a single take. We knew the screens were using an advanced facial detection system, CityLive Look (powered by Quividi), to analyse the demographics of people watching the screens to gather viewing statistics. With the help of FTP Concepts, we have turned this system from a reporting mechanism into a content selector.
After filming, we tested which target group the stories most resonated with. We used Quividi to detect the age and gender of the viewer and then determined which of our stories should be played for them. That way, our storytelling is data-driven and interactive – but so subtly that it never puts a barrier between the story and the audience.
We follow the telling of each story with a call for donation. And, as a closing interaction, we ask the viewer to touch the hand of the person sharing their story in the film – as if they are just on the other side of the glass – to find out more about the Booth Centre and to get involved. The hand-to-hand touch brings a personal dimension to the interaction, and we hope it will stay with viewers in real life and remind them of the inherent humanity of homeless people.