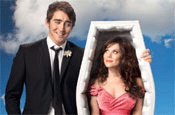 The shop, opening in Broadwick Street, will pump the smell of cut grass out of vents, and will feature "whispering windows".
Passers-by will also be able to interact with characters from the show through touchscreens and via Bluetooth.
The pop-up shop has been created by the brand experience agency Cunning.
Francesca Evans, an account director at Cunning, said: "The Pushing Daisies pop-up shop will open eyes and give people a real, tangible sense of what the show is all about."
Pushing Daisies is a comedy drama that follows the life of a pie-maker, Ned, who has the ability to bring dead things back to life. Anna Friel plays Chuck, Ned's childhood sweetheart.
Lucy Shannon, a brand manager at ITV, said: "The shop that Cunning has created is a fun, interactive experience that reflects the feel-good values of the show."
It will be shown on ITV1 on Saturday evenings, starting 12 April.