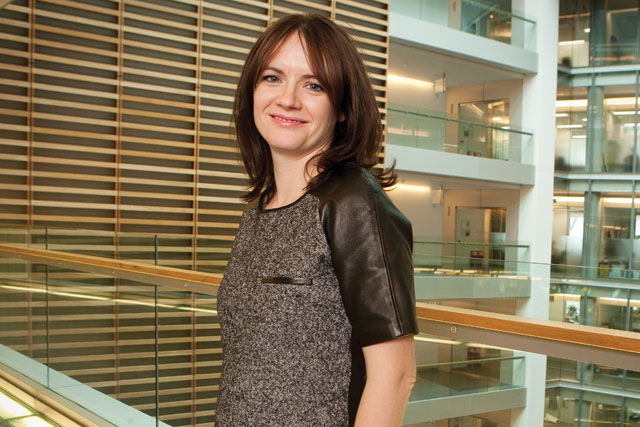 Eilidh MacAskill says being the editor of the UK edition of InStyle is the happiest she's been in her career. And despite her hatred of celebratory anniversary issues, the Scot admits she couldn't be prouder of where the IPC title is as it marks its tenth anniversary.
After what was a rather terrifying set of Audit Bureau of Circulations results for the majority of consumer magazines, publishers and editors alike have been quick to argue that it is their digital extensions that will propel their title's success.
But while MacAskill raves about InStyle's growing digital presence, she believes what will strengthen magazines on the newsstand is "the Brangelina effect".
What MacAskill means, by coolly referring to the "it" couple Brad Pitt and Angelina Jolie, is the way magazines can evolve by hooking up with the right brand partners.
"It's the Brangelina effect. If you get together with the right partner, it will impact on the newsstand," she says.
MacAskill began her editorship in 2008, after a 15-month stint as the deputy editor on the US edition of InStyle. Since joining, she has made staff changes, pushed for more consumer input in the magazine and for brand partnerships with the likes of Selfridges, Coach and Dolce & Gabanna.
But MacAskill's real challenge as editor was finding a way for InStyle to break away from its US shadow and find its British identity.
The freelance beauty consultant Elizabeth Barnett Lawton, who was part of the editorial team for InStyle's launch editor, Louise Chunn, said the overwhelming influence of the US magazine had made it a difficult title for editors.
Barnett Lawton, who became the beauty director on Richard Desmond's now-defunct Happy when MacAskill was editor there in 2005, says: "It took years for InStyle to have a British mark on the brand.
"From the launch of InStyle in the UK, the editorial was closely monitored by the editorial director in the US.
"With her experience of working for the mother brand in New York, and presumably benefiting from a greater level of trust and autonomy given to her from the US as a result, Eilidh has been able to drive the editorial signature of InStyle and develop its own unique British identity."
And differentiating InStyle's UK audience from its US counterparts does seem to be at the forefront of MacAskill's mind.
"It's a household name in the US," she says. "It's been amazing coming over here understanding the DNA of that, making it more British and giving it more of that really great fashion sense. We are not quite Ricky Gervais, but we're just that little bit more irreverent."
And while she admits that InStyle had "a bit of a blip" in the latest ABCs (the magazine fell 6 per cent year on year to 173,113), Mac-Askill remains a firm believer in the strength of its measurement, while others, such as the Bauer chief executive, Paul Keenan, have suggested its relevance could sink as digital platforms rise.
InStyle's parent company, IPC, seems keen to invest in digital platforms, and lent its support to Mac-Askill's idea of a Brangelina effect by announcing the launch of an ad deal with Procter & Gamble for InStyle's mobile website.
Although MacAskill says she was impressed by just how widely the publisher is investing in digital, she says it means her role has evolved: "It is no longer just editing a magazine - it's like running your own creative agency, really."
But, clearly, here is a woman who can evolve. MacAskill began her career as an editorial assistant at the book publisher Geddes & Grosset before working her way up to launch the Scotland on Sunday magazine Spectrum and then Happy, before deputising for InStyle in the US.
"I'm a lot happier as editor than as deputy, unsurprisingly," Mac-Askill says. "It was an amazing opportunity to edit what is the biggest fashion magazine in the US. But I love London, and I think I'm a dyed-in-the-wool Londoner, really - I keep coming back."
Barnett Lawton says it is Mac-Askill's overall creative vision that makes her a strong editor: "She had strong creative relationships with her staff. She was really involved.
"The thing that made it so delightful to work with her was she had an incredible vision: as well as being a really good journalist, she completely got when something was visually exciting.
"She's really made InStyle into a serious contender magazine and she's brought her own personality to its pages."
It's clear MacAskill's time in the US has shaped her editorial grasp in the UK. Last month, with sponsorship from Selfridges, InStyle created its first Best Beauty Advice We've Ever Heard supplement, which evolved from a column she had written for InStyle in the US.
The supplement was the culmination of six months of research on Facebook that ended up, inversely, in print. MacAskill says the work is testament to the way the magazine feeds off its various social networking platforms and website, on which she claims 90 per cent of the content is original.
As a self-confessed glass-half-full type, MacAskill is positive about what the next decade holds for InStyle.
"Everything is an opportunity," she says. "Instead of thinking something is a change, we just have to market every opportunity - we have to push our magazine and the brand forward to give people that experience."
THE LOWDOWN
Age: 41
Lives: Streatham, South London
Family: Husband Grant Govier, a photographer, nine-year-old daughter
Ellis and three-year-old son Daniel
Hobbies: Horror films, a lot of reading and spending time with my
children
Last books read: The Book Of Human Skin by Michelle Lovric and The
Thousand Autumns Of Jacob De Zoet by David Mitchell
Motto: "If there's a will, there's a way"