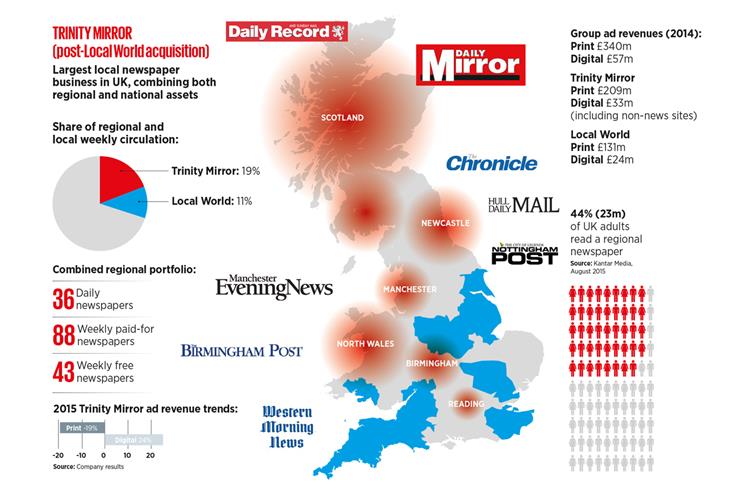 It is noon on the 22nd floor of One Canada Square and Daily Mirror journalists are meeting to decide the next day's paper. The most viewed article on the website has been the John Lewis "man on the moon" ad, and someone asks if the Mirror is earning anything from the retailer in return for the free publicity.
It's a pertinent question because Trinity Mirror is betting on digital advertising and increased scale to halt years of slumping print sales – particularly in regional and local media, where readers and classified revenues have migrated online and consolidation is overdue.
So the City has welcomed Trinity Mirror's acquisition of Local World in a £220 million deal completed last Friday. Its share of the UK local and regional newspaper circulation has jumped from 19 per cent to 30 per cent (making it the market leader). That's about nine million copies a week, plus 120 million monthly unique browsers.
The deal also increases the group's exposure to advertising to nearly half of turnover, or about £350 million. Trinity Mirror got 38 per cent of sales from advertising last year but it was 70 per cent at Local World, which relies less on coverprice revenue.
Gaining online scale is vital after Trinity Mirror's print ad sales collapsed by 19 per cent in the first half of this year – a drop only partially offset by a 24 per cent rise in digital ads.
Buying Local World has almost doubled the group's digital ad sales to about £70 million a year and puts it within reach of the top five UK online publishers by ad revenue: Google, Facebook, Twitter, MailOnline and The Guardian. "This deal does put us at the top table," James Wildman, Trinity Mirror's chief revenue officer, claims.
There is also a geographical fit. Trinity Mirror is strong in Manchester, Liverpool, Newcastle and Scotland. Local World's heartland is in the south and southwest.
Wildman describes Trinity Mirror's "unique" ad offering as the "holy trinity": "Under the same roof, we have national print at scale, regional print at scale and digital at scale. We're the only one with all three." The Sun's owner, News UK, doesn't have regional or much digital scale; Johnston Press and Newsquest don't have national titles; and Google and Facebook haven't got print or local contacts.
That holy trinity helps national advertisers with "regional upweight requirements", Wildman adds, citing Kellogg in the north-west and Gillette in the north-east.
Trinity Mirror already handles Local World's national print ad sales but insists it is too early to talk about other efficiencies. However, there is room to cut. Trinity Mirror employed 780 in advertising, according to its annual report. Local World's sales team was 940. Change is also likely for 1XL, the digital ad platform that pools inventory from Local World, Johnston and Newsquest. Enders Analysis suggests Trinity Mirror will "exit" to manage its own sales.
Wildman maintains that The Sun poses little threat after dropping its paywall, describing the title as "just another competitor" in a digital market with many rivals, from BuzzFeed and Vice to Auto Trader and Rightmove.
Trinity Mirror has tried to innovate but closed the social platform UsVsTh3m last year because audiences were not translating into revenue.
"Could we have built UsVsTh3m into BuzzFeed? Not without hundreds of millions of pounds of investment," Wildman says. "Within a plc environment, you clearly have to invest in sites with a [financial] return. Vice and BuzzFeed don't have to do that. I struggle to find anybody who spends money with BuzzFeed."
Looking ahead, video will be "far more central" and putting content into Facebook Instant Articles and Apple News is essential because they are "too big too avoid". Half of Trinity Mirror's traffic comes via Facebook.
Wildman sees few alternatives to advertising ("How do we introduce paywalls when the BBC is around?") and dismisses voluntary reader contributions such as The Guardian's membership scheme ("I don't think they've generated a penny").
Advertising has its own troubles over fake views and transparency. The latest problem is ad-blocking. Even though readers must realise that content "has to be paid for in some way", Wildman says "there needs to be a creative response" from the ad industry – by making better ads.
Wildman's watchwords are collaboration and creativity. That means breaking down the church-and-state divide between editorial and commercial with the Inventions team, a specialist in sponsored or "native" content.
"Native is hard work," he admits, but points to a collaboration with the NHS Blood and Transplant service as a successful example.
Not all deals have such a feel-good factor. The Mirror's relationship with Newcastle United came under scrutiny after the paper won exclusive access to players at the same time that it paid to become a club sponsor. Eyebrows were raised, especially as United had previously banned three local Trinity Mirror titles over their coverage.
Wildman dismisses suggestions that Trinity Mirror might pull its punches, citing its reporting of the horsemeat scandal despite counting supermarkets among its big advertisers: "We have to become more flexible in the way we engage with our advertisers across commercial and editorial, without ever jeopardising our editorial integrity and independence."
He remains a defender of print and claims that Trinity Mirror has "taken share off The Sun" this year by embracing innovation and increasing the number of advertisers.
But Trinity Mirror still faces a slog. It could be 2017 before digital ad growth offsets print decline. Enders Analysis warns: "The medium-term outlook for local media continues to look stormy."