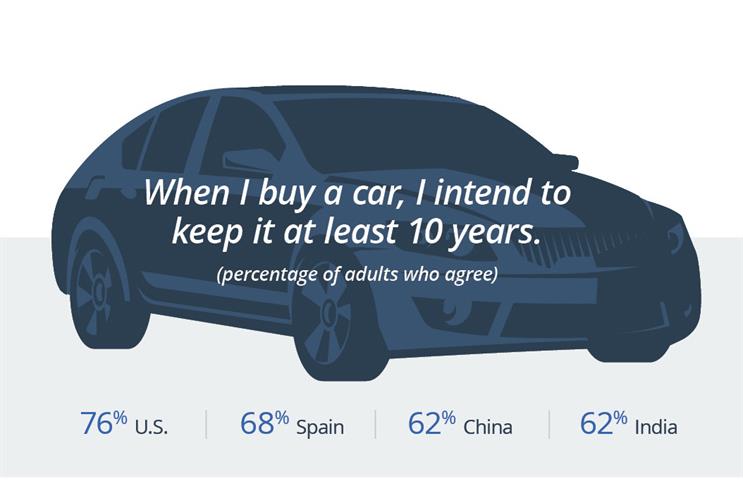 Cars and their tech-driven future are taking center stage at the Consumer Electronics Show this year. On Tuesday — shortly after GM revealed that it was investing $500 million in ride-sharing firm Lyft — reporters filed into Ford Motor Co.'s press conference expecting an announcement about its long-simmering deal with Google, possibly on the subject of driverless cars. Instead, Chief Executive Mark Fields talked about a new fleet of electric vehicles, smartphone integration and a tie-in with Amazon's virtual assistant, Alexa, that will let drivers check their fuel or battery-charge levels from home.
All nifty stuff. But a clearer vision of Ford's future — and the future of driving in general — appeared in the most recent report from Sheryl Connelly, Ford's global futurist. Her 2016 global forecast, "Looking Further with Ford," released in December, looks at the long-term social and economic trends that will affect the auto industry — and others — in the coming decades. A key part of this year's report centers on the growing consumer preference for small, efficient, multifunctional products that last for years, which it dubs the "Swiss Army Life." (For example, 76% of adults in the U.S. now expect to keep their car 10 years, up from a previous average of four.)
Just before CES we caught up with Connelly to talk about this evolving lifestyle and why today's automakers need to be tech companies rather than car salesmen.
One of the more intriguing of this year's trends is what you call the Swiss Army Life, a rising emphasis on self-reliance and utility. Doesn't that fly in the face of traditional consumerism and marketing?
Yes. Our research shows that today it's not about having more things; it's about getting greater use out of fewer things. That's a challenge that goes far beyond car companies. Consumers increasingly want quality, versatility and durability from brands. To deal with this shift, industries will have to collapse into each other, as they become more multi-purpose.
For instance, Ford is turning into more of a consumer electronics company. Selling as many cars as possible is no longer our main goal, now it is exploring the meaning of mobility, powered by technology.
Are Millennials driving this shift in values?
Absolutely. As we know, they are big on renting. For them, to be upwardly mobile means changing jobs often, and for that they need to be nimble. Bigger seems outdated — they don't want possessions that anchor them down. Status now means having access rather than owning things. And it's not just younger people who are going in this direction.
How is Ford dealing with this multifunctional Swiss Army Life approach when it comes to mobility?
We are working on understanding new categories, such as car-sharing and ride-sharing and autonomous [self-driving] vehicles. Sometimes a car is not the best mobility solution for someone. People will want a list of options.
We are also experimenting with electric bikes through a licensing agreement with bike company Pedego, to see how they can be used with other transportation options and how we can connect them to smartphone apps.
For example, we are developing a prototype app in partnership with startup Tome Software that uses real-time data to send feedback to the bike's handlebars to let the rider know when to turn. It could also plan an efficient journey using the bike, a car and public transit.
The idea would be that the eBikes would be stowed and charged inside Ford vehicles. But so far there are no immediate plans to sell the eBikes or the technology.
Are there other examples of smaller and multifunctional products in other industries?
Sure. Just look at the fast-growing tiny house movement. Our research shows more than a third of US adults under 35 would seriously consider living in a 100- to 400-square-foot house. Keep in mind that the average US house is about 2,600 square feet.
In that same vein, the CityHome project at MIT is working on furniture that adapts to the resident's needs and is controlled by voice and gestures. For instance, a bedroom could morph into a home gym.
IKEA was a leader in offering interior décor specifically for small apartments.
Also, in textiles, big and bulky is gone. Fabrics and styles are sleeker, thinner, more high-tech and often multifunctional.
You are known for your big-picture view. What macro developments make you think "small is sexy," that eBikes and tiny houses are more than just passing fads?
When you step back and look through a bigger lens, you see that the population is increasing worldwide, especially in places where space is limited. Early adopters have already embraced the notion of living simply with well-designed products. It will become a necessity for all kinds of brands in a more crowded world.