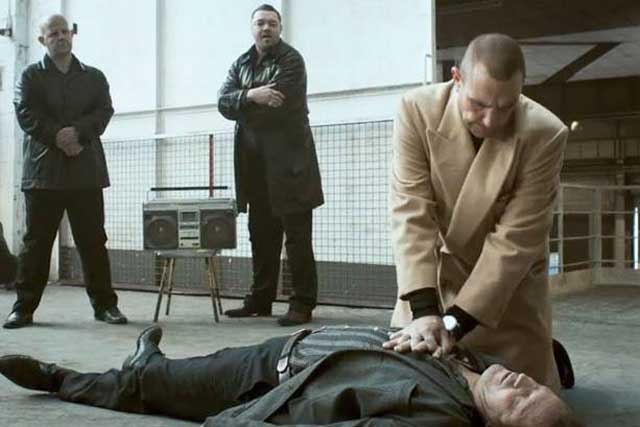 Had they been uttered by another big-name creative, Paul Brazier's observations about a less-than-exciting crop of entries in the Direct category at this year's Big Awards might have been taken with a cellar full of salt.
Creative chiefs at large mainstream agencies have had a nasty habit down the years of sounding patronising and arrogant about direct marketing while displaying limited knowledge of it.
That accusation cannot be levelled at Brazier, the Big Awards chairman and executive creative director of Abbott Mead Vickers BBDO. Not only was AMV named Direct Agency of the Year at the 2010 Cannes Lions but, as Brazier points out: "There's very little work we do that doesn't include a direct element."
So Brazier has to be taken seriously when he talks about a Direct category that "seemed underwhelming overall".
"Perhaps my expectations were too high as I'd seen what I thought was a renaissance in this category a few years ago," he added in his statement.
This week, he softened his stance slightly, claiming that all of the winners in the Direct category were, in fact, worthy ones and that his previous comments were simply "reflective of the Direct jury's overall feeling". What is generally agreed, however, is that the dearth of work being entered for direct marketing awards is not a reflection of low creative standards.
Marc Nohr, the chief executive at Kitcatt Nohr Digitas, says: "It is ever thus that awards juries claim standards in direct are declining. That's not to say such criticisms don't have merit, but they tend to be more pronounced at advertising-centric awards."
Rik Haslam, the Rapp London chief creative officer and a Big Awards Direct juror, suggests that the economic climate is making agencies think carefully about what awards they will enter, and they might want to hold work back for the Direct Marketing Association Awards or the Cannes Lions.
"There's actually a lot of good work out there that would have done well had it been entered," he argues.
Caitlin Ryan, the Proximity London executive creative director who chaired the Direct jury, says: "Small direct marketing agencies don't have the resources to compete in the awards stakes."
"It's a bit like the Olympics," Annette King, the chief executive of OgilvyOne, Campaign's reigning Direct Agency of the Year, says. "You're reluctant to enter unless you think you've got a real chance of a gold medal."
Brazier's theory is that direct has become such an all-embracing term that agencies are entering what once might have been thought of as a pure direct campaign into other categories.
"A few years ago, the direct category exploded because everybody was experimenting with it and that's what brought about the renaissance," he says.
Stephen Maher, MBA's chief executive, argues that digital developments are making it increasingly difficult to define direct marketing. "Digital has complicated the issue," he explains. "So much focus is being put on it by direct agencies whose previous focus might have been elsewhere.
"And with agencies being increasingly judged by clients on their ability to impact sales, just about any TV spot with a URL in it becomes direct response."
CREATIVE HEAD - Paul Brazier, executive creative director, Abbott Mead Vickers BBDO; chairman, Big Awards
"I wouldn't want to give the impression that the Direct winners weren't worthy of their awards. All went through a rigorous judging process.
"What seems to have been a fewer number of entries in the Direct category might be because agencies understand better what work is capable of winning. It's not just a TV spot with a URL on the end of it.
"Agencies are looking at the numbers ever more closely and don't want to waste money when it comes to entering awards. Perhaps the work seemed underwhelming because there was less of it to judge."
AGENCY HEAD - Stephen Maher, chief executive, MBA
"The direct marketing industry is doing well and producing a lot of strong work. However, the growth of digital is complicating matters and making it hard to define what direct marketing actually is.
"I can't think of any direct campaign that doesn't have an element of digital in it, and you can find a lot of what might have been thought direct campaigns entered in other awards categories.
"Any good integrated campaign is about driving response. That can apply to any TV commercial that results in a search uplift irrespective of whether or not it includes a website address."
AGENCY HEAD - Marc Nohr, chief executive, Kitcatt Nohr Digitas
"One of the eternal truths in our industry is that awards juries are always claiming that creative standards in direct marketing are in decline. These claims aren't without merit, but they tend to be more pronounced at advertising-centric awards, where judges go for big ideas that are simply expressed and aesthetically pleasing.
"Meanwhile, it gets increasingly difficult to identify what direct and interactive means. Especially when it's now possible to interact with your TV and outdoor has become so much more than just posters. Little wonder that awards categories tend to be a hotchpotch of channels and disciplines."
CREATIVE HEAD - Caitlin Ryan, executive creative director, Proximity London; chair of Direct judges, Big Awards
"Standards in direct marketing aren't in decline, but the discipline is often misunderstood. The work isn't always properly rewarded in the same way as classic campaigns with high production values.
"The problem with direct campaigns is that they sometimes need a lot of explaining and often have long-term objectives. It's very difficult to judge them in the same way as other categories.
"What's more, the small, independent direct agencies producing good campaigns are reluctant to enter major creative awards because of the cost and because some of the direct winners at Cannes look more like tailored PR stunts."