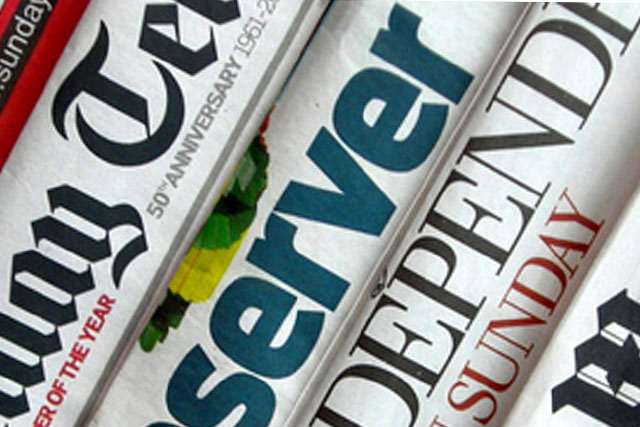 Guardian News & Media's print and digital titles – The Guardian, The Observer and theguardian.com – collectively took the crown of the most-read quality newspaper group combination in the UK, according to the NRS PADD (National Readership Survey Print and Digital Data) data for 2013 published today
GNM titles attracted more than 12.6 million monthly readers in Britain across print and online, and seven million people a week. The growth has been propelled by digital users, which add 208% to total reach throughout the year.
Telegraph Media Group's print ad digital titles – Daily Telegraph, Sunday Telegraph and telegraph.co.uk – also enjoyed record readership figures of 12.2 million, with digital adding 150% year on year. The TMG newsbrands were calculated to be read by more than six million people per week and 2.1 million a day.
Strong year on year growth was also experienced by most other quality titles, as newspaper websites continue to grow in popularity. There was more modest growth at News UK's The Times and Sunday Times which sit behind paywalls, but nevertheless they achieved readership rises of 9% and 7.6% respectively.
All research is based on National Readership Survey (NRS) data from January 2013 to December 2014, but does not include mobile and tablet app readers.
| | | | | |
| --- | --- | --- | --- | --- |
| | Print (000s) | Website Only (000s) | Net Print + Website Total (Net - 000s) | Increase with Online (%) |
| Quality | | | | |
| Financial Times | 1540 | 863 | 2403 | +56.1 |
| The Daily Telegraph | 4138 | 7506 | 11644 | +181.4 |
| The Daily Telegraph/The Sunday Telegraph | 4895 | 7334 | 12229 | +149.8 |
| The Guardian | 3993 | 8301 | 12294 | +207.9 |
| The Guardian/The Observer | 4544 | 8121 | 12665 | +178.7 |
| The Independent/i | 3957 | 4076 | 8032 | +103.0 |
| The Independent/The Independent on Sunday/i | 4362 | 4014 | 8377 | +92.0 |
| The Times | 4551 | 411 | 4963 | +9.0 |
| The Times/The Sunday Times | 6626 | 502 | 7128 | +7.6 |
| | | | | |
| Mid-market | | | | |
| Daily Express | 3273 | 2509 | 5782 | +76.7 |
| Daily Express/Sunday Express | 4039 | 2465 | 6504 | +61.0 |
| Daily Mail | 11232 | 8595 | 19827 | +76.5 |
| Daily Mail/The Mail on Sunday | 13536 | 8035 | 21571 | +59.4 |
| | | | | |
| Popular | | | | |
| Daily Mirror | 7206 | 4907 | 12113 | +68.1 |
| Daily Mirror/Sunday Mirror | 8515 | 4775 | 13290 | +56.1 |
| Daily Mirror/Sunday Mirror/Sunday People | 9010 | 4730 | 13739 | +52.5 |
| Daily Record | 1480 | 984 | 2465 | +66.5 |
| Daily Record/Sunday Mail (Scotland) | 1846 | 954 | 2800 | +51.6 |
| Daily Star | 3438 | 943 | 4381 | +27.4 |
| Daily Star/Daily Star Sunday | 3922 | 934 | 4856 | +23.8 |
| The Sun | 13594 | 1662 | 15256 | +12.2 |
| The Sun/The Sun on Sunday | 15061 | 1593 | 16654 | +10.6 |
| | | | | |
| Regional | | | | |
| The Courier - Dundee | 321 | 167 | 488 | +52.2 |
| London Evening Standard | 4495 | 911 | 5406 | +20.3 |
| Metro | 9972 | 2500 | 12471 | +25.1 |
| The Herald (Scotland) | 407 | 484 | 891 | +118.9 |
| The Herald (Scotland)/Sunday Herald (Scotland) | 479 | 478 | 956 | +99.8 |
| The Scotsman | 397 | 734 | 1131 | +184.6 |
| The Scotsman/Scotland on Sunday | 541 | 723 | 1264 | +133.6 |
| Yorkshire Post | 575 | 194 | 769 | +33.8 |