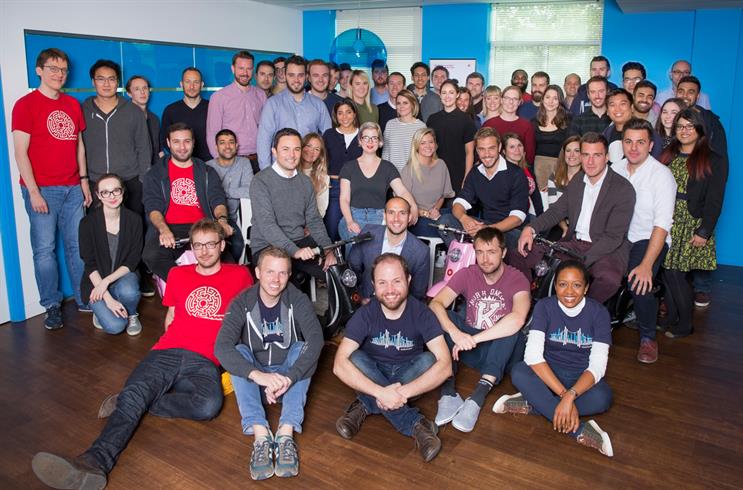 We've managed to get a great mix of people that can push the boundaries of data – but you'd still want to go to lunch with them.
When I started at Quantcast three years ago, we had around 38 employees in the UK. Today we have over 100 people in the UK and more than 900 employees globally. We've handpicked some really strong talent; we work in a business that is quite sophisticated, but in an industry that is very much about relationships.
In three years at Quantcast I've seen attribution really move in a different way.
We've talked to clients, produced lots of white papers and run educational sessions around the fact that last touch attribution really isn't how we should be measuring the success of campaigns. Recently, we've noticed that agencies and clients are changing their ways and moving to different metrics that are much more realistic and indicative of what a successful campaign is.
By addressing attribution you would actually help resolve issues like fraud.
Bots don't buy products; it would be quite expensive for fraud companies to start converting. If we actually focused on hard business metrics such as sales and conversions, then maybe fraud would go down – and viewability would get better. Publishers would be getting a lot of the revenue that's going to these fraudulent sites – so the money going to publishers would increase quite considerably, too.
As an industry we need to ensure standards are consistently high when looking at what a successful digital ad campaign looks like. If we focus on metrics that don't bring real value and attribution, we're missing the big picture on how impactful digital can be in the long run – and we're enabling the fraudsters and wasting advertising budgets.
We're working to improve campaigns by having a control creative that we're constantly trying to beat.
The industry is starting to focus on the creative message as well as the data.
We're working to improve campaigns by having a control creative that we're constantly trying to beat. Traditionally, a campaign that runs for four weeks using the same creatives, sees a plateau around two weeks. If we use the data and technology that we have to experiment on creative, to see if we can beat that control, you'd see a significant uplift across a four week campaign period.
Clients really want to know what we can tell them about their business.
They want to know how we've analysed the data we're collecting in a way that's easy to digest and make an action on. What can we tell them about their business that can make them do a better job in the future?
A good example is our work with the hotel chain Jurys Inn. We helped them realise that a large portion of their traffic and conversions were coming from cities holding sporting events – so they were able to create a content strategy to attract more customers by helping them select their sporting event on their site. We're able to draw on actionable insights from a display advertising campaign – and use them to fuel an entire content marketing strategy.
Christmas is getting earlier than ever.
We recently did an analysis of consumer retail and Christmas shopping. We found that there are a lot of brands that start their Christmas activity in October, as you do. If your consumer's a planner and thinks ahead, then that's fine – but a big household brand should probably start its advertising campaign in October.
But actually, a lot of the time the Christmas audience is really only focused on retail in November – so you should probably save some of your budget until November and start prospecting then. And then, when you get into December, consider how you can get that customer over the line, rather than just focusing on the two weeks before Christmas. If you combine technology with actionable live insights, it can really help you find that customer throughout this journey. I'd suggest looking at audience behaviour from October to inform your plan.
I always try to take a step out of the bubble of media, and think about what my mum or sister would think.
The audience isn't just your colleague sitting next to you.
I started off as a planner buyer – I always tried to take a step out of the bubble of media, and think about what my mum or sister would think. Sometimes we can get caught up in our own jargon and make things too complicated.
Advertising has got a lot smarter since I started in this industry.
We have moved away from buying in bulk – based on assumption. Today we're finding clients want full visibility into the internet audience – which you can only achieve through a massive proprietary cross-platform data set. Integrated real-time data has become essential for targeting and optimisation, in order to keep pace with consumer behaviour. And consistent data is vital – without it, you can't get a get a cohesive view of consumer behaviour. Now, we have the technology to identify audiences, draw on actionable insights an deliver one-to-one messages to an exact audience at scale. It's changed advertising forever.
Even as the MD of the UK, Quantcast Supernova is pretty hush hush.
It's about trying to bring what we do in terms of data to the forefront. I think businesses in our space can be intimidating to clients and agencies. And what Supernova is trying to do is demystify it and make people realise that data and technology don't have to be intimidating.
Supernova's all about bringing data experts and clients together.
Last year we had Disney Pixar and Sir Clive Woodward as keynotes, and Lloyds, The Economist, Microsoft and Buzzfeed taking the stage. This is Supernova's third year – it's going to be our biggest yet!
This year's theme is Embracing Innovation.
We're rethinking the rules of the digital world. As we begin to build new trading models, how can we unlearn what we know? We have a big reveal coming up in next week's Campaign Magazine – but if you can't wait, you can register for Supernova on our website.
Quantcast Supernova takes place on Friday 18th November at The Brewery, 52 Chiswell Street, London, EC1Y 4SD from 10am. Find out more and Find out more and register here.