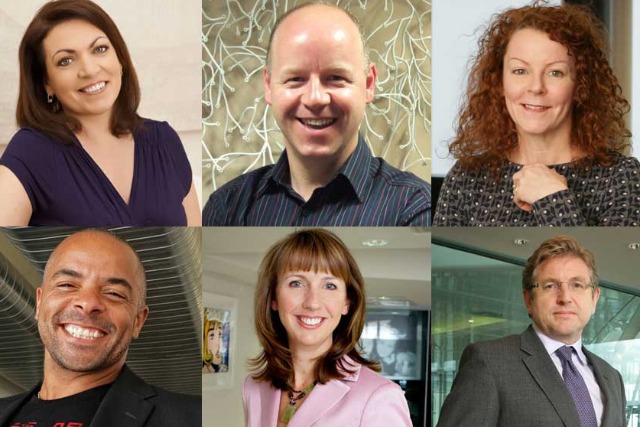 Here we bring you the results and the highlights from Twitter as people declared "I am Jonathan Mildenhall" or one of our other nine marketers.
The most common outcome was the honour of being named Roisin Donnelly, with 21.2% of our sample answering 10 questions that cumulatively likened them to the P&G brand director of Northern Europe.
Click here to take the quiz #WhichMarketerAreYou? for yourself.
Somewhat surprisingly, Amanda Mackenzie, Aviva's chief marketing and communications officer, found out she was more like Jonathan Mildenhall, Airbnb's CMO, rather than herself. However, after re-taking the quiz at home, she tweeted that she was, thankfully, herself.
Donnelly, Mildenhall, the Post Office's Pete Markey, John Lewis' Craig Inglis and Tunepics' Justin Cooke also tweeted that they got themselves after taking the quiz (as The Quizmaster breathed a sigh of relief).
Even Pete Markey's son took the quiz, discovering he was most like Cooke. Unilever chief marketing and communications officer Keith Weed had the fewest matches, with just 0.6% of our sample being labelled Weed.
Click here to see the results of how many people were like each of out 10 marketers
Here we highlight some of our favourite tweets from our influentual marketers.
You are most like...
1. You are…Roisin Donnelly 21.2%
You're a serious marketer and seasoned thought-leader.
You are a natural born leader and, while you won't have your time wasted, are a fantastic mentor for all those around you. A long career in the boardroom beckons.
2. You are…Jennelle Tilling 14.7%
You're a larger than life character and lots of fun to be around and work with, wherever you happen to be in the world.
Your boundless energy and warmth makes you the perfect mentor for those lucky enough to be within your glow. You're also never afraid to try something new.
3. You are…Christian Woolfenden 14.1%
You're the marketing industry's very own badass. Always happy to cause a bit of controversy, you are no stranger to diving in and taking risks.
You've generated a reputation as a can-do character, and you are 110% committed to making your brand stand out from the crowd.
4. You are…Jonathan Mildenhall 13.5%
You're happy, and an inspiration to work with. You've experienced creativity from all angles, from agency to corporate giant and digital challenger.
Your positive attitude gets the best out of your colleagues and your creative flair has earned you a position in people's hearts and minds.
5. You are…Pete Markey 10.9%
You're known in the industry as a genuinely nice guy; everyone you've worked with past, present and future has nothing but good things to say about you.
You are a conscientious networker and can often be seen at conferences – whether on stage or in the crowd.
6. You are…Justin Cooke 9%
You're hugely confident in your abilities and not afraid to give things a go to see what happens.
You restlessly seek the next big thing and are at the cutting-edge of what's new in the industry. Most likely to become a billionaire.
7. You are…Craig Inglis 7.1%
You're a high-flier, very much top of the class. However, despite your many achievements, you remain down-to-Earth.
You are admired and envied by your peers, but remain humble no matter how many trophy cabinets you're starting to need.
8. You are…Amanda Mackenzie 5.1%
You're a big-hitter, even if you would never say so aloud, and are the proof that the phrase "nice guys finish last" is not always true.
You are a passionate advocate of new talent and doing things the right way. Your approach - personally and professionally - is valued by those around you.
9. You are…Gavin Patterson 3.8%
You're the king of marketing cool, and you have no trouble making sure everyone around you knows what you want and when you want it by.
You are respected by those that work with and for you, and you're a role model for those marketers looking to take the next step into C-suite.
10. You are…Keith Weed 0.6%
You're at the top of your game and your time is extremely precious.
While you have a huge amount to juggle, you're no stranger to trusting others to get on with the day-to-day – yet you somehow manage to stay in control no matter which continent you find yourself on.