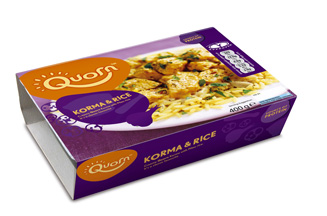 The design, by Coley Porter Bell, aims to give the brand greater mainstream appeal, while retaining its core vegetarian and vegan customers.
The refreshed packaging will be rolled out this summer, supported by point-of-sale material.
Quorn is looking to position the brand as a healthy alternative to meat for use in family recipes.
The packaging features an orange and yellow logo, a handwritten-style typeface and images of sunshine. The products are also colour-coded to assist consumers with navigation of the range.
Quorn, which has more than 100 products, is the market leader in the meat-free food sector, according to Mintel.