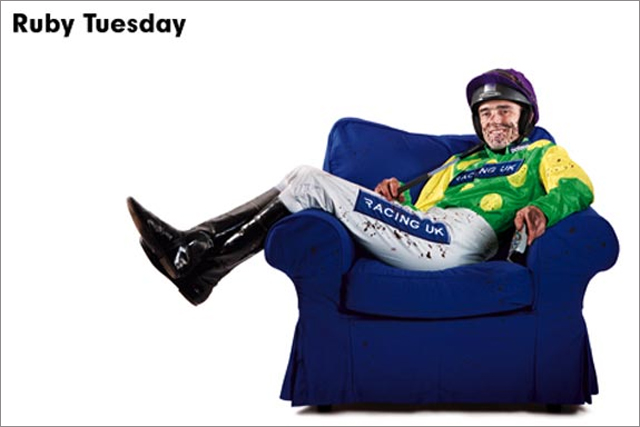 The TV channel, which is available on Sky, Virgin and Irish cable provider UPC, is targeting new Sky subscribers who sign up to watch the festival between 15 and 18 March.
Everyone who signs up to Sky before midday tomorrow (15 March) could get their annual subscription worth £240 paid for by Racing UK, if Walsh finishes the first day of the festival as outright leading jockey, which currently has odds of 3-to-1.
Walsh is fronting a campaign called 'Ruby Tuesday', which urges people to sign up. It will span direct marketing, a digital campaign and a press ad.
It features a recorded message from Walsh, urging people to sign up, and a spoof email between the jockey and Racing UK's marketing director Clive Cottrell, in which they discuss the promotion.
The initiative follows a similar campaign with Frankie Dettori in 2007. Racing UK shelled out more than £800,000 to Sky subscribers, and 95% of subscriptions were renewed the following year.
Racing UK is also launching the '100% Cheltenham' campaign, which conveys Racing UK's commitment to the four-day showpiece meeting. TV ads will air on Channel 4, UPC and Virgin Media.
A pre-Cheltenham campaign, including direct marketing, telemarketing and industry print ads, will target more than 36,000 pubs and clubs.
In November, Racing UK was nearly forced to pull the plug on its campaign after Walsh broke his leg in a fall. Racing UK's agency BPL Marketing changed the picture in the ads to one of Walsh with his leg in a cast.