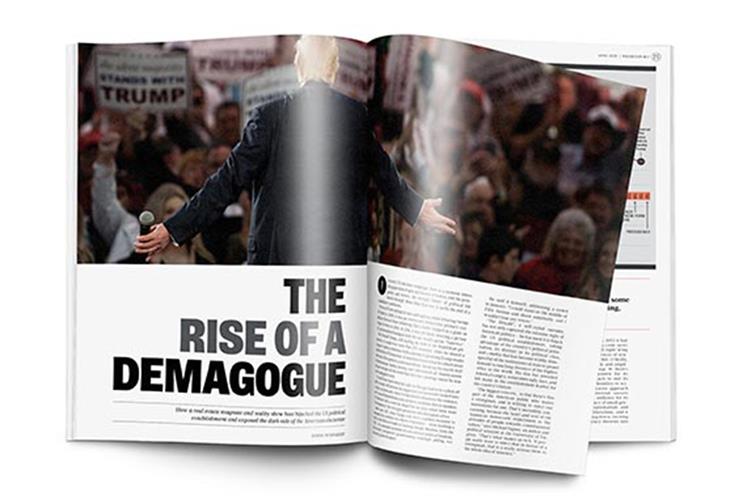 I am writing this from the train up to Yorkshire to see our first-ever magazine being printed. "Printing," I hear you say, "isn't digital where all the action is today for publishers?"
To some extent that's true. A lot of the efforts and strategies at publishers across the globe are centred on driving digital traffic and revenues, even at Raconteur.
However if you look under the bonnet at most publishers, digital revenues are still typically only 10-20 per cent of turnover; digital versions of print magazines are somewhere around the same level. Far from being dead, print is alive, kicking – and earning.
However, the magazine we are launching today wasn't conceived on a spreadsheet. We are publishing the UK's first monthly, free current affairs magazine because we are convinced that there is a need and a desire for a product that combines quality journalism with innovative design and user experience.
I have had this idea and product in my head for almost two years now. It began as a personal reaction to how poorly informed my friends and colleagues, most of them millennials, were about current affairs.
Ask most people in our generation the name of China's president and see what happens. Or the the basic arguments for and against Brexit. The vast majority don't know. Even the most well educated and ambitious individuals seem to have switched off.
I find that a terrible shame for our society, that we know and care more about football transfer rumours and little black dresses than we do about the roots of the terrorist threats to Europe, or what President Trump would mean for our planet.
So with that in mind I started to think about a publishing product that could reach and engage this time-poor and somewhat disengaged audience.
Was it through email bulletins? Nah, everyone is doing that now. Was it a digital site optimised for social sharing and distribution? Again, lots of them already exist and that audience still doesn't seem to be using them.
Then it struck me. What if you gave it away for free in print and packaged "boring" current affairs in a way that was optimised for 2016 news consumption, mixing visual with punchy analysis and long-form, in-depth features that cover the stories left untold by the mass media?
What if you published it monthly, rather than weekly, so that it becomes something to look forward to and not a weekly chore that never gets read? If we did this, I thought, what reason would 130,000 London commuters have not to pick this up once a month?
I suppose we will only know the answer to that after this evening's first distribution – across 27 Tube stations in Zone 1.
But I have reason to be optimstic as Raconteur has been producing regular business supplements in print in The Times and The Sunday Times for a number of years.
As publishers, we need to innovate in our business models, just like everyone else, but I fundamentally believe there is still enormous value in uncovering stories and telling them well, no matter what format you deliver them in. And while I believe passionately in print, you can sign up for digital notifications for each issue.
Freddie Ossberg is the publisher and founder of Raconteur