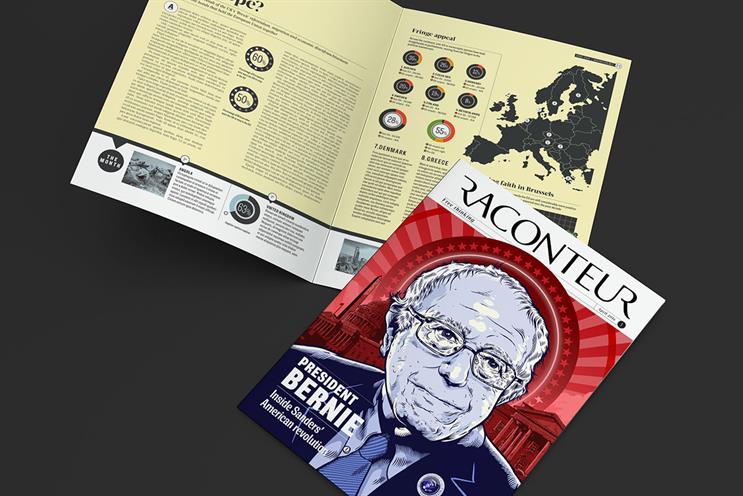 The new title will see it moving into providing a round up of the month's current affairs with long-form and short-form copy, as well as visuals such as infographics.
Freddie Ossberg, the managing director and founder at Raconteur, told Campaign: "The majority of what we do is business, tech and finance but we have always been interested in covering world events.
"We have seen an opportunity from an editorial and design point of view in bringing current affairs publishing into 2016."
He explained that the title will be a good way of keeping up to date with global affairs for people who are "time poor".
Peter Guest, the editor at Raconteur, added: "People don't feel they are very well informed because usually they are picking up news through their smartphones, so they have a very superficial knowledge but they want a deeper knowledge."
Raconteur will also add a section to its website for the new content from the magazine. It is looking to redesign the site later in the year so that it can "better mix the articles [from the magazine] with the special reports" and add online-only content.
The publisher will distribute 128,500 copies across 28 tube stations throughout zones 1 and 2 on the London Underground. It will launch on 31 March and will then be issued every last Thursday of the month.
Up to 30 per cent of the magazine will be made up of advertising, including four sponsored editorials. The launch issue will feature ads from upmarket brands such as Vacheron Constantin, Swarowski and Société Générale.
Raconteur Media is looking to expand its business after seeing "huge" growth over the past two years. Revenue has increased from £2.5 million to £4.8 million and it is aiming to hit £6.8 million this year.
Ossberg also said that now is a good time to launch a freesheet as the model is proving popular with readers. He pointed to the success of NME, which became free from September last year.