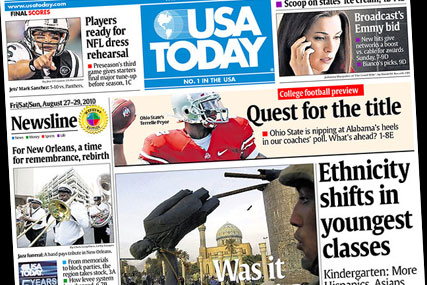 David Hunke, president and publisher, of USA Today, which was founded in 1982, said the move reflected an evolution from a "newspaper company to a multi-platform media company".
That translates to a greater focus on mobile and tablet devices such as Apple's iPad. USA Today's iPad app is currently free.
USA Today, in June, said it was considering delaying plans to charge until 2011. The decision was said to be based on ad revenue outweighing the potential circulation revenue from readers.
The changes at USA Today reflect developments elsewhere in the industry and most notably at News Corporation, which is pushing ahead with its plans for an app based newspaper.
The 130 job cuts, representing around 9% of the paper's 1,500 staff, will affect all departments although Hunke gave no specifics as to which departments would be hit the most.
The reorganisation will see USA Today do away with separate managing editors overseeing its news, sports, money and life sections. These editorial desks will be replaced by "content rings" headed up by soon-to-be appointed editors reporting to Susan Weiss who has been named executive content editor having formerly been managing editor of the Life Section of the paper.
The content rings will include travel, breaking news, investigative, entertainment and tech, among others.
AP, in another sign of changing times in the world of newspapers, quoted a presentation that said USA Today's restructure will "usher in a new way of doing business" that more closely aligns sales and content.
On a day-to-day basis that will manifest itself in a closer working relationship between Weiss and the newly-appointed Rudd Davis, the founder of sports website BNQT.com, who heads up the new business development department.
Business development is one of five new departments that also include: vertical development, which will oversee the creation of new and existing vertical content areas; digital development, focusing on supporting USA Today's dotcom, mobile, iPhone and iPad platforms; and USA Today Sports, which will be developed as a national brand for sports and multiple media content from across Gannett.
Hunke said the closer alignment of sales and content would not compromise editorial integrity, but said USA Today was looking for ways to build strategies that work for advertisers.
USA Today's circulation has fallen sharply in recent years along with other US newspapers. It fell to an average of 1.83 million copies during the six months ending in March. The paper had been selling 2.3 million in 2007.