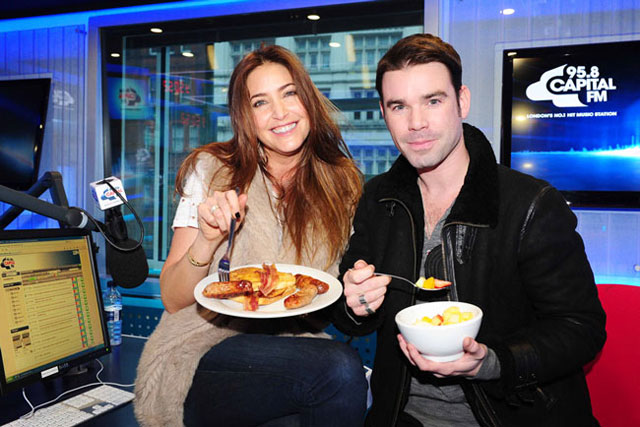 At the event, the commercial radio sector won 12 gold awards, including four for Bauer Media's Absolute Radio, including Best Speech Programme, Best Technical Innovation and Best Use of Branded Content.
The Radio Academy gave the production and presentation Team at Global Radio's LBC 97.3 the Special Award for its 'Call Clegg' and 'Ask Boris' programmes.
LBC 97.3 also took home two golds, one for Best Community Programming and another for Tom Swarbrick for National Radio Journalist of the Year, as well as two bronzes and two silvers.
In total Global Radio won five awards, including Best Specialist Music Programme for The Beatdown on XFM with Scroobius Pip.
The coveted Music Radio Personality of the Year went to Orion Media-owned Gem 106's breakfast duo Sam & Amy, at the expense of the awards' host and BBC Radio 2 breakfast presenter, Chris Evans.
Five new partners, Blinkbox music, PPL, PRS for Music, RCS and SGPB Hambros, replaced Sony as the partners of the Radio Academy Awards this year.
Full List of Winners
Best Community Programming
Gold: Slavery on our Streets – LBC 97.3
Silver: The Joy of Reading – BBC Radio Oxford
Bronze: Knives Wreck Lives – 107.6 Juice FM
Nominee: Free Radio Walk for Kids – Orion Media for Free Radio
Nominee: Pete's Pensioner Party – BBC WM 95.6

Best News Feature or Documentary
Gold: Tempted by Teacher – markthree media for BBC Radio 1
Silver: Assignment: The Man Who Fell to Earth – BBC Radio Current Affairs for BBC World Service
Bronze: Slavery on our Streets – LBC 97.3
Nominee: Crossroads: The Girls – Prison Radio Association for BBC Radio 1
Nominee: The Assassination of JFK: Minute by Minute – TBI Media for BBC Radio 2

Best News & Current Affairs Programme
Gold: PM – BBC Radio 4
Silver: Call Clegg – LBC 97.3
Bronze: Victoria Derbyshire – BBC Radio 5 live
Nominee: Asian Network Reports – BBC News for BBC Asian Network
Nominee: The World at One – BBC Radio 4

Best Speech Programme
Gold: The Frank Skinner Show – Avalon for Absolute Radio
Silver: The Digital Human – BBC Radio Scotland for BBC Radio 4
Bronze: Call Clegg – LBC 97.3
Nominee: Short Cuts – Falling Tree Productions for BBC Radio 4
Nominee: The Reunion – Whistledown Productions for BBC Radio 4

Best Coverage of a Live Event
Gold: The Death of Nelson Mandela – BBC World Service News and BBC Africa Service for BBC World Service
Silver: Great North Run 2013 – Metro Radio
Bronze: The Dambusters – 70 Years On – BBC Radio 2 with TBI Media and Snappin' Turtle Productions for BBC Radio 2
Nominee: Capital's Jingle Bell Ball – The Capital Network for Capital FM
Nominee: Live@Wimbledon Radio – the AELTC's Official Radio Coverage of the 2013 Wimbledon Championships – IMG Media Ltd for Live@Wimbledon Radio

Best Music Feature or Documentary
Gold: Soul Music: Strange Fruit – BBC Bristol for BBC Radio 4
Silver: Adam Buxton on David Bowie – BBC Radio 6 Music
Bronze: Who Sold The Soul – Factual & Music Department, BBC Wales for BBC Radio 4
Nominee: The Dambusters – 70 Years On – TBI Media with Snappin' Turtle Productions for BBC Radio 2
Nominee: The Sash My Father Wore – BBC Radio Ulster

Best Feature or Documentary
Gold: Between the Ears: Mighty Beast – BBC Bristol for BBC Radio 3
Silver: Johnny Cash and the Forgotten Prison Blues – Unique for BBC Radio 4
Bronze: The Day We Won Wimbledon – BBC Radio 5 live
Nominee: A Different Kind of Justice – Somethin' Else for BBC Radio 4
Nominee: Advice from the Edge of Life – BBC Radio Scotland

Best Competition
Gold: The Heart House – Heart West Midlands
Silver: 500 Words – BBC Radio 2
Bronze: Fifty Grand Friday – Real Radio Group
Nominee: A Flag for Worcestershire – BBC Hereford & Worcester
Nominee: Christian O'Connell - Make 'Em or Break 'Em! – Absolute Radio

Best Promotional Campaign
Gold: Wimbledon 2013 – BBC Global News Creative Services for BBC World Service
Silver: The Sound of Cinema on 6 Music – BBC Radio 6 Music
Bronze: Saturday Night at the Movies with Howard Goodall – Classic FM
Nominee: The Last Of Us – XFM/Global Radio Creative/Drum for The XFM Network
Nominee: The Voices of Birmingham and the Black Country – BBC WM 95.6 and Fresh Air Production for BBC WM 95.6

Best Use of Branded Content
Gold: The Christian O'Connell Breakfast Show with Wickes – Absolute Radio
Silver: More Tomorrows on Classic FM with Cancer Research UK – Classic FM
Bronze: The Manuscript with Just for Men – TBI Media for Absolute Radio
Nominee: BOWIE with the Victoria & Albert Museum – TBI Media for Absolute Radio
Nominee: XFM Presents with Ford SYNC – The XFM Network

Best Entertainment Programme
Gold: Greg James – BBC Radio 1
Silver: Rob Howard – Capital North East
Bronze: The 12 O'Clock Show – BBC Radio Bristol
Nominee: Alex James's Magical Musical Tour – Classic FM
Nominee: The Dermot O'Leary Show – Ora Et Labora for BBC Radio 2

Best Creative Innovation
Gold: #Lipdublincoln – BBC Radio Lincolnshire
Silver: Now Playing @6Music – Somethin' Else for BBC Radio 6 Music
Bronze: The voice of the under 20s across the UK – Podium.me
Nominee: #BBCtrending – BBC Radio Current Affairs for BBC World Service
Nominee: TBI Minute by Minute Interactive – TBI Media

Best Technical Innovation
Gold: InStream for Absolute Radio – Absolute Radio
Silver: Multi Player Competition Technology – Wise Buddah
Bronze: Responsive Radio and Unified Station Management – University Radio Bath
Nominee: BBC Playlister – BBC Radio Multiplatform & BBC Future Media
Nominee: RadioDNS Hybrid Radio in a Smartphone – Global Radio Creative Technology

Local Radio Journalist of the Year
Gold: BBC Radio Norfolk News Team – BBC Radio Norfolk
Silver: Radio City & City Talk News Team – Radio City & City Talk
Bronze: The Nolan Show Team – BBC Radio Ulster
Nominee: Heart North West and Wales News Team – Heart North West and Wales
Nominee: Jo Taylor – BBC Radio Cambridgeshire

National Radio Journalist of the Year
Gold: Tom Swarbrick – LBC 97.3
Silver: Becky Milligan – BBC Radio 4
Bronze: Ian Pannell – BBC News for BBC Radio 4 & BBC World Service
Nominee: Declan Harvey – BBC News for BBC Radio 1 & 1Xtra Newsbeat
Nominee: Jon Manel – BBC Radio 4

Best Interview of the Year
Gold: Winifred Robinson interviews Ralph Bulger – BBC Radio Documentaries for BBC Radio 4
Silver: Iain Dale interviews James in Woolwich – LBC 97.3
Bronze: Becky Milligan interviews the wife of a child sex offender – BBC Radio 4
Nominee: Iain Lee interviews Stephen Conroy – BBC Three Counties Radio
Nominee: Stephen Sackur interviews Pavel Khodorkovsky – BBC News for BBC World Service

Special Award
The Production & Presentation Team for Call Clegg & Ask Boris - LBC

Best Drama
Gold: The Morpeth Carol – BBC Radio Drama London for BBC Radio 4
Silver: Darkside – BBC Radio Drama London for BBC Radio 2
Bronze: Lost and Found – BBC Salford for BBC Radio 4
Nominee: Babbage – Pier Productions Ltd for BBC Radio 3
Nominee: How To Have A Perfect Marriage – Sparklab Productions for BBC Radio 4

Best Comedy
Gold: The Secret World – BBC Radio Comedy for BBC Radio 4
Silver: John Finnemore's Souvenir Programme – BBC Radio Comedy for BBC Radio 4
Bronze: Here Be Dragons – John Stanley Productions Ltd for BBC Radio Wales
Nominee: Bridget Christie Minds The Gap – BBC Radio Comedy for BBC Radio 4
Nominee: The Blagger's Guide To Doctor Who – Unique for BBC Radio 2

Best Music Programme
Gold: Jamie Cullum – Folded Wing for BBC Radio 2
Silver: The People's Songs – Smooth Operations for BBC Radio 2
Bronze: The XFM Evening Show with Danielle Perry – The XFM Network
Nominee: Alex James's Magical Musical Tour – Classic FM
Nominee: John Suchet – Classic FM

Best Specialist Music Programme
Gold: The Beatdown on XFM with Scroobius Pip – The XFM Network
Silver: David Rodigan – BBC Radio 1Xtra
Bronze: Zane Lowe – BBC Radio 1
Nominee: Mistajam – BBC Radio 1Xtra
Nominee: The Folk Show with Mark Radcliffe – Smooth Operations for BBC Radio 2

Radio Brand of the Year
Gold: The Absolute Radio Network
Silver: KISS UK
Bronze: Capital
Nominee: Classic FM
Nominee: Planet Rock

Speech Radio Broadcaster of the Year
Gold: Victoria Derbyshire – BBC Radio 5 live
Silver: Jane Garvey – BBC Factual for BBC Radio 4
Bronze: Melvyn Bragg – BBC Factual for BBC Radio 4
Nominee: Justin Webb – BBC News for BBC Radio 4
Nominee: Rony Robinson – BBC Radio Sheffield

Music Radio Broadcaster of the Year
Gold: Zane Lowe – BBC Radio 1
Silver: Scroobius Pip – The XFM Network
Bronze: Tom Service – BBC Radio 3 Music Department for BBC Radio 3 and BBC Radio 6 Music
Nominee: Guy Garvey – BBC Radio 6 Music
Nominee: Mary Anne Hobbs – Wise Buddah for BBC Radio 6 Music

Music Radio Personality of the Year
Gold: Sam & Amy – Gem 106
Silver: Radcliffe & Maconie – Smooth Operations for BBC Radio 6 Music
Bronze: Graham Norton – BBC Radio 2
Nominee: Chris Evans – BBC Radio 2
Nominee: Christian O'Connell – Absolute Radio

Speech Radio Personality of the Year
Gold: Danny Baker – Campbell Davison Media for BBC Radio 5 live
Silver: Alan Robson – Metro Radio & TFM
Bronze: Phin Adams – Cam FM
Nominee: Johnny Vaughan – TalkSport
Nominee: Nick Ferrari – LBC 97.3

Best Station Imaging
Gold: KISS FM (UK)
Silver: TeamRock Radio
Bronze: BBC Radio 2
Nominee: BBC Radio 6 Music
Nominee: The Capital Network

Best Sports Programme
Gold: The Day We Won Wimbledon – BBC Radio 5 live
Silver: Gerr'um On Side – 102.4 Wish FM & 107.2 Wire FM
Bronze: 5 live Sport – BBC Radio 5 live
Nominee: The Team That Never Was – BBC Radio Oxford
Nominee: World Football – BBC World Service Sport for BBC World Service

Breakfast Show of the Year (under 10 million)
Gold: Iain Lee - BBC Three Counties Radio
Silver: Boogie in the Morning – Forth One
Bronze: Sam & Amy – Gem 106
Nominee: Good Morning Ulster - BBC Radio Ulster
Nominee: Hirsty's Daily Dose – Capital Breakfast - Capital Yorkshire

Breakfast Show of the Year (10 million plus)
Gold: The Capital Breakfast Show with Dave Berry & Lisa Snowdon – 95.8 Capital FM
Silver: 5 live Breakfast – BBC Radio 5 live
Bronze: The Breakfast Show with Penny Smith & Paul Ross – BBC London 94.9FM
Nominee: KISS Breakfast with Rickie, Melvin & Charlie - KISS
Nominee: Nick Ferrari at Breakfast – LBC 97.3

Station of the Year (under 1 million)
Gold: BBC Tees
Nominee: Moray Firth Radio
Nominee: National Prison Radio

Station of the Year (1 million plus)
Gold: BBC Radio Ulster
Nominee: LBC 97.3
Nominee: Metro Radio

UK Station of the Year
Gold: BBC Radio 2
Nominee: BBC Radio 4
Nominee: TalkSport

Gold Award
Tony Blackburn