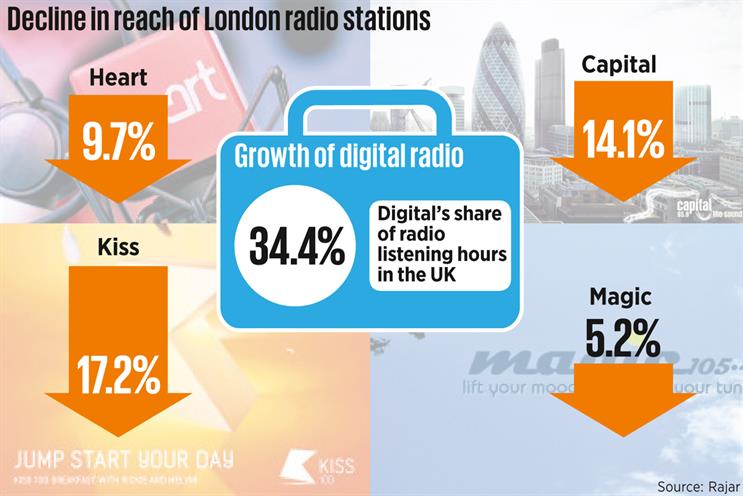 Last week's Rajar figures contained several strands of good news for commercial radio companies. Clearly, the figures always throw up individual success stories – and it's right that the industry focuses on these.
Ashley Tabor, the founder and executive president of Global Radio, said the group's figures were evidence of a "great start to the year" and Dee Ford, the group managing director of Bauer's radio division, claimed "another strong Rajar performance" both locally and nationally.
There was also widespread cheer to be derived from the digital numbers. Digital radio now accounts for 34.4 per cent of all listening hours, up 17 per cent year on year – and listening online and via apps is growing particularly strongly, up 24 per cent year on year.
Howard Bareham, the head of radio at Mindshare, says this clearly could have positive commercial implications. "Anything that makes radio a more interactive medium has to be good news," he states.
However, according to some observers, there was one particularly alarming story lurking beneath the Rajar headlines – the London commercial radio figures were hugely disappointing.
All of the major London stations were down year on year in terms of reach: Capital by 14.1 per cent, Kiss by 17.2 per cent, Heart by 9.7 per cent and Magic by 5.2 per cent. Listening hours were similarly poor. It's believed to be the first time ever that all the major commercial players suffered a simultaneous hit in the capital.
One buyer said: "I don't want to go off the deep end publicly, because this may be a blip. Let's wait another quarter before we pass judgment on the London situation. But I also want to make clear my view that there are major grounds for concern here."
The common analysis during a downturn is that the BBC, with its guaranteed licence-fee revenues, is always going to have a natural advantage over its commercial counterparts, which have to make tough decisions in balancing their books.
And, indeed, the Rajar figures were published in the same week that the BBC scooped 70 per cent of the gongs at this year's Sony Radio Academy Awards.
But others point out that, actually, the BBC's performance in London wasn't great either. Listeners may simply be leaving the medium entirely in its most vibrant and competitive market.
Some observers fear that radio output as a whole is just currently rather tired, cautious and conservative – it's worrying, they add, when its most compelling growth story is Chris Evans on BBC Radio 2's breakfast show.
It's undeniable that commercial radio has got work to do
Yet Simon Kilby, the commercial director of Absolute Radio, argues that the market shouldn't get too distracted by the London situation (even though its London station, in recording a smaller decline than its major rivals, actually improved its market share).
He concedes that the outlook for the radio advertising market is still "turbulent" – but argues that, despite this, commercial radio is still facing the future optimistically.
"We continue to invest in engaging content – and that's paying off," he maintains. He adds that the commercial sector has been pretty good recently at developing stations for niche tastes.
Perhaps – but it can't really hope to escape being judged on its mainstream offering in major markets. Tom Drummond, the head of radio at Initiative, says that there is no cause for panic – not yet, at any rate. "Let's just say these are interesting figures," he concludes. "It's undeniable that commercial radio has got work to do."