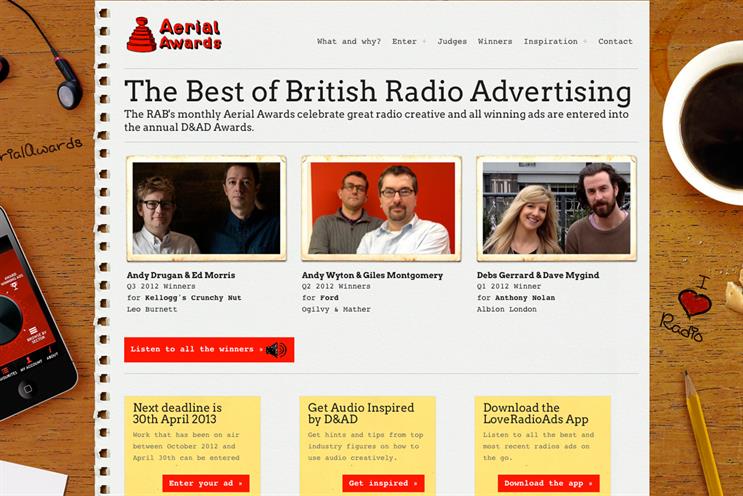 Commercial radio in the UK hit something of a creative nadir at the turn of the decade, with diminishing accolades and less thoughtful campaigns laid bare at Cannes in 2011, when our agencies failed to pick up a single gong in the Radio category.
Since then, the industry has been on something of a mission, spearheaded by the Radio Advertising Bureau, and progress is being made. The latest chapter in the story was unveiled a couple of weeks ago, when the RAB resurrected its Aerial Awards as a monthly scheme.
Creative agencies seem up for the challenge. Within days, the new Aerials had attracted more than 45 entries – that's more than double the average number contesting the old, quarterly Aerials.
Whether this amounts to a triumph of hope over experience remains to be seen. But let's assume that the creative part of the renaissance can be achieved. Does that have further implications?
The RAB analysis here is disarmingly straightforward. If radio's revenues have been in the doldrums in recent years (and performance has been, at best, patchy), then fear has been a significant contributory factor. Creatives, though they may protest otherwise, are scared of radio. They love pictures. They just can't get their heads around working in sound alone.
So, on many campaigns where radio should be a natural part of the mix, it just doesn't figure. Change that, and you can start driving real revenue growth.
Over the course of the first decade or so of the 21st century, the medium's market share has been remarkably stable. It took 6.3 per cent of UK display in the first quarter of 2000 and 6 per cent in the third quarter of 2012 (the most recent period for which accurate data is available).
But things have been looking shaky recently. Although promotions and sponsorship revenues have been encouraging, national spot revenues (£68.3 million in the first quarter of 2013) have been down year on year in each of the past three quarters.
The Aerials relaunch will dovetail with other schemes (one launched in 2011 in partnership with D&AD) designed to spark the enthusiasm of young creatives – and the stirrings of a creative revival, the optimists say, could soon deliver tangible rewards.
But is radio's plight really that simple? Tellingly, media agencies tend to agree with at least some aspects of the RAB analysis. They point out that the medium has addressed one of their previous bugbears – proof of effectiveness. The RAB's radioGAUGE tool has nailed that one.
And radio has effectively made a case for its inclusion on schedules alongside other media. It works well in combination with TV, for instance, and it's a significant driver of activity on social media.
Simon Redican (pictured), the RAB's managing director, argues that, having won the intellectual battle, radio now has to go out and conquer hearts. "The rational arguments for radio are unanswerable – mass reach, engagement and proven effectiveness," he says. "We need to win the emotional battle by inspiring and training creative teams to embrace the UK's second-biggest [in terms of audience reach] medium."
So, will it work? Quite possibly, Howard Bareham, the head of radio at Mindshare, believes. But he concludes: "It's true that creative issues have been a barrier [to growth] in some cases. Have there been great strides made where creativity is concerned? Yes. But is there more to be done? Yes."