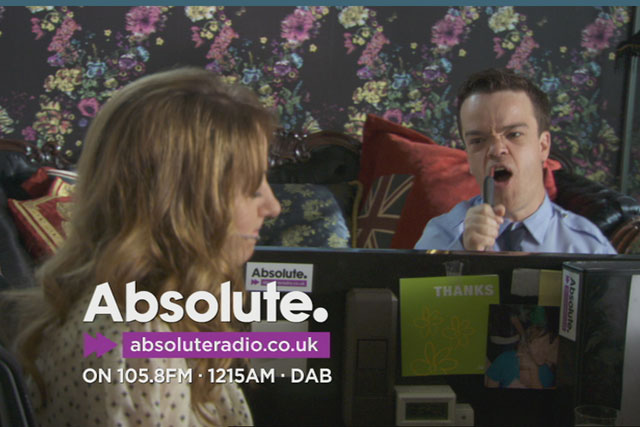 A few weeks back, we are ashamed to confess, when we saw the story about Absolute Radio being taken off the block, we merely read the headline and assumed the worst.
Absolute's owner, Times of India - and, ultimately, the Times of India's owner, Bennett, Coleman & Co - appointed advisors in April to explore a possible trade sale, and had approached potential buyers for the loss-making business.
Back in 2008, it had paid a reported £53 million to buy the station from SMG - and it would have bitten the hand off anyone offering anything in that ballpark. The best bid it received, however, was believed to be around £20 million.
No surprise there, we assumed. The medium was struggling before 2011 - but the prognosis became even gloomier when, as the new year dawned, £40 million (around 10 per cent of total revenue) disappeared overnight, COI budgets having evaporated as part of the Government's austerity drive.
So, in September, we failed to take any notice of assertions from BC&C that it was actually rather pleased that the sale process had stalled, and now believed prospects for the Absolute business were looking rather rosy. Revenue and listening were on the up, it argued - and Absolute could now look forward to breaking even in 2012.
Whistling in the wind, we assumed. However, we need to think again. While Global Radio has just reported a 1.3 per cent decline in revenues for the year to the end of March 2011, when COI is stripped out of the comparison, it actually increased by 6 per cent.
There's anecdotal evidence emerging from buying points that, against all odds, national spot advertising revenues for 2011 as a whole are likely to be up by 5 per cent year on year, thanks to a stonkingly good August and September, where revenues were up by as much as 17 per cent year on year.
Astonishing, really. But, surely, it can't last? Karen Stacey, the head of broadcast at Bauer Media, doesn't see why not. One of the medium's strengths, she points out, is the way it dovetails so effectively with online media consumption - as is so amply demonstrated by Radio Advertising Bureau research.
She states: "We deliver ROI for advertisers by influencing behaviour online, as evidenced in the RAB's online multiplier research. It's a huge testament to radio's effectiveness that COI revenue has been replaced."
However, some observers say it probably isn't wise to get too carried away. For instance, Mike Williamson, Carat's head of radio, points out that, whatever happens this year, revenues will still be significantly below 2009 levels.
But still, he adds, recent gains are fantastic news for the medium.
He argues that the phenomenon is being driven by a number of factors - the first of which is the fact that radio audiences, even on the commercial side, are at an all-time high. He also points out that radio has become more flexible and accountable. "For instance, new Ofcom rules allow advertisers to do a wider range of things, like branded content and partnerships. Advertisers in general have been using the medium more tactically. It all adds up," he reckons.
There are those who believe there's a creative angle to factor in here too. A significant amount of growth is down to the arrival of price comparison websites that major on slogans, jingles and the sort of "sonic trigger" strategies that are tailor-made for radio.
Tom Drummond, the head of radio at Initiative, also argues that media owners have become more adept at demonstrating the power of the medium. He says: "The RAB has great research about how radio boosts consumer happiness and enhances receptiveness to brand advertising. And the continuation of the RadioGauge research (a radio advertising measurement tool, funded by the commercial radio industry) demonstrates to advertisers the effect radio has on a brand."
And Simon Blackburn, the head of radio at MPG Media Contacts, argues that the medium's closure of "the COI gap" is a great testament to the successful development of the UK's flagship commercial networks. He's particularly impressed with Global Radio - and, in particular, its efforts in developing Heart and Capital as national brands. "They have been the driving force behind increased demand - clients are drawn to these brands and they want to be a part of them," Blackburn says.
He adds: "Securing last-minute inventory is a lot trickier than it used to be. If you want to be on key stations, then you would be advised to speed up that approval process or risk being disappointed."
YES - KAREN STACEY, HEAD OF BROADCAST, BAUER MEDIA
"Radio is in rude health, with audiences growing through digital and online engagement. We deliver ROI for advertisers by connecting them with the most engaged listeners in the most important markets."
YES - MIKE WILLIAMSON, HEAD OF RADIO, CARAT
"Radio listening is at an all-time high, with commercial listening up 3.5 per cent this year. That's a reflection of the investment that media owners have been making in programming."
YES - TOM DRUMMOND, HEAD OF RADIO, INITIATIVE
"In addition to very encouraging listening figures, advertiser interest has been stimulated by the RAB, which has done some great research recently highlighting how radio boosts consumer happiness."
YES - SIMON BLACKBURN, HEAD OF RADIO, MPG MEDIA CONTACTS
"The top commercial networks have become appealing brands with strength and depth. That has been a factor in the medium's success in drawing in new categories - eg. pharmaceutical products - that would not have considered radio in years gone by."
Got a view? E-mail us at campaign@haymarket.com.