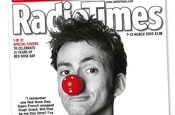 The Comic Relief issue, out today (Tuesday), features interviews with Richard Curtis and Ronan Keating, one of a number of celebrities climbing Mount Kilimanjaro in order to raise money for the charity.

Gill Hudson, the editor of Radio Times, said: "For our part, some bright spark on the Radio Times decided that it would be a fantastic idea to celebrate the 21 years since Red Nose Day first began by having no fewer than 21 different covers.

"Despite knowing exactly how much effort goes into producing just one cover in a normal working week.

"Utter madness. But maybe the team will forgive me when they see how much we raise for this brilliant cause."
Red Nose Day is Friday, 13 March.