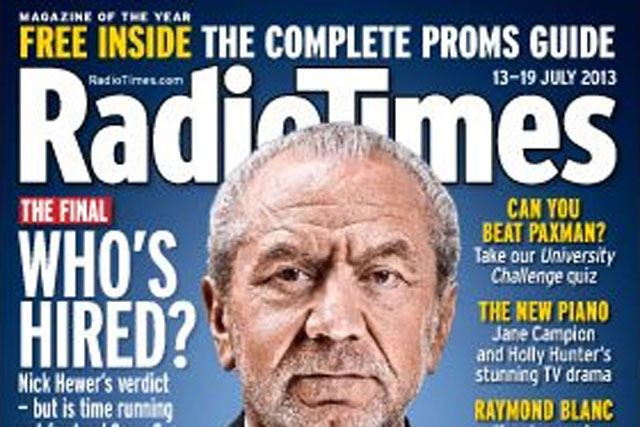 In an interview with Media Week's sister title Campaign, Preston said the brand was looking into launching its own EPG, which could guide viewers on what they should watch from the range of channels, platforms and apps on smart TVs.
Preston said: "There's an awful lot to do on this front, and EPGs are certainly something we are looking at. I wouldn't overstate it, but we're absolutely looking."
He believes the 90-year-old magazine's expert guidance could help viewers to navigate the content on smart TVs.
The Immediate Media title, which covers TV and radio and won the Professional Publishers Association award for Consumer Magazine of the Year last month, is the UK's third best-selling magazine.
Preston said: "The experience for the consumer is not great at the moment, because if you want to watch a BBC programme, you have to go to iPlayer, and if you want to watch a Channel 4 programme, you have to go to Channel 4.
"And if you're a subscriber to a particular pay-TV channel, it doesn't give you independent advice. You need a central place that tells you what's good, and why it's good."
The magazine sells nearly 900,000 copies a week, and prides itself on providing independent advice on programmes from 'Doctor Who' to 'Dispatches'.
Preston said: "Over the next decade, increasing numbers of viewers are going to watch more and more programmes beyond the traditional terrestrial channels, from Google and iPlayer to Netflix and beyond.
"With the rise of smart, connected TVs, viewers will be able to access all sorts of websites and apps on their television. The task for us is to make sure that as more people seek intelligent, trusted, independent advice on what's good to watch, so more of them turn to Radio Times – on paper, on the move and on screen."
In the nearer future, Radio Times plans to launch its first permanent app. A one-off Christmas app last year sold more than 2,500 editions and the "shell" was downloaded more than 36,000 times.
"Every journey begins with a small step," said Preston.
Read the full interview with Ben Preston in this week's Campaign magazine on Thursday.