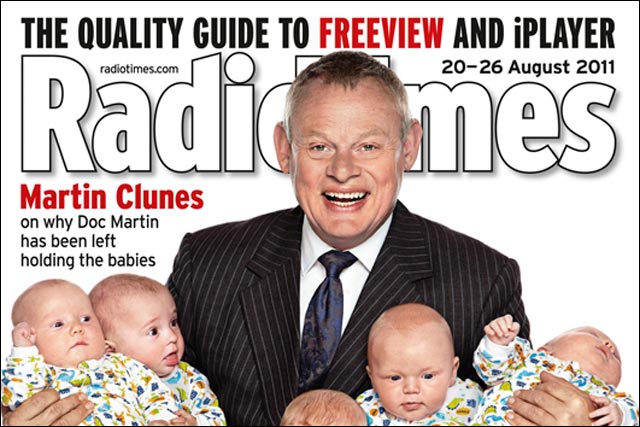 Talking in the week the BBC confirmed the popular TV-listings magazine will be among those sold by BBC Worldwide to private equity firm Exponent in the autumn, Preston was keen to stress the magazine's "quality editorial" and its new-look website, specifically designed to attract younger eyeballs.
Preston, who will stay on as Radio Times editor once the deal is completed, said: "I think we have got to be strong and to offer a quality product for users and readers. The magazine is very much something people live with and is unique.
"It lives on people's coffee tables for 12 days at a time. It's got great analysis and interviews. We are obviously a premium-priced magazine, but we are Britain's best-selling quality magazine."
Yesterday, Radio Times launched a new website, which will offer tailored recommendations based on previous clicks and visits, as well as sneak preview videos and editorial content.
It will also allow users to go backward through listings and will link up to catch-up TV services, BBC iPlayer, ITV Player, 4oD and Demand 5, to allow viewers to watch shows they may have missed.
The site is expected to launch mobile and tablet versions over the coming months.
Preston said: "The website is really exciting because there's an issue for all print media of how we reach 20-somethings or even 30-somethings. We have to have a better digital offering and that's what the new website is about.
"The website, as with all websites, will be about 'what can I watch now?'. We have to engage people in different ways.
"This website shows the scale of our digital ambitions – we want to be addictively useful, a trusted companion for people on a quest for quality entertainment in a time of bewildering choice."
Radio Times is the third-most actively purchased magazine in the country, according to the Audit Bureau of Circulations figures for the first six months of 2011.
The magazine has an average circulation of 901,036, down 6.2% period on period and 4.9% year on year. However, priced at £1.20, the title is significantly more expensive than its rivals.
Preston said the fact that TV magazines dominated the most actively purchased magazines rankings was testament to people tuning in to the array of news and entertainment television now on offer. He said: "These are tough times – we live in an age of austerity and TV is a very important part of people's lives."
Natalie Burton, acting head of press at Vizium, believes the BBC's sale of the 88-year-old Radio Times could actually be good news for the title.
She said: "We would expect the new publisher to invest more into its brands than the BBC has done in the last few years
"There's now so much choice out there, digital TV is getting bigger and bigger and people want to filter through it. A lot of people thought digital would be the death of TV-listings magazines, but it's actually helped them."