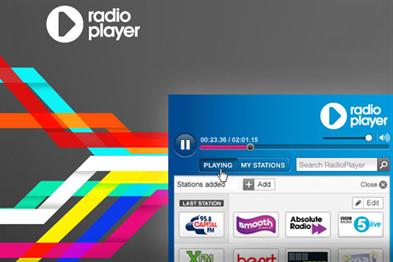 Radioplayer launched on 31 March 2011 and now has over 310 live radio stations and claimed to receive seven million unique visitors, for February this year.

Its free mobile app will launch this summer and will be available on iPhones and Android devices, before rolling out to other devices at a later stage.

The app focuses on content discovery and Radioplayer claims it will be 'as simple' to use as radio. It has been developed by the Radioplayer partners and developer All in Media.
Radioplayer is also developing a series of connected TV apps, and has readied one for YouView, which will launch with the service later this year. The move follows the launch of a Facebook Radioplayer app last year.

Radioplayer is eyeing expansion outside of the UK and has already signed a deal in Russia where the app will roll out later this month. It claims to have licensing negotiations with other countries in the works.

Radioplayer is backed by the BBC, Global Radio, GMG Radio, Absolute Radio and commercial trade body RadioCentre, and aims to grow digital radio listening by simplifying the way radio works on connected devices.
Michael Hill, managing director of Radioplayer, said that its first year has "smashed expectations", adding: "We thought we'd have three to four million users and we've doubled that. We aimed to focus on computers, but we're now rolling out to mobiles and TVs. And we never dreamed the model would spread beyond the UK."
Radioplayer launched a campaign earlier this week, with a series of radio ads promoting the use of the player at work.
After its first six months, RadioPlayer reported 6.7m unique visitors for August.