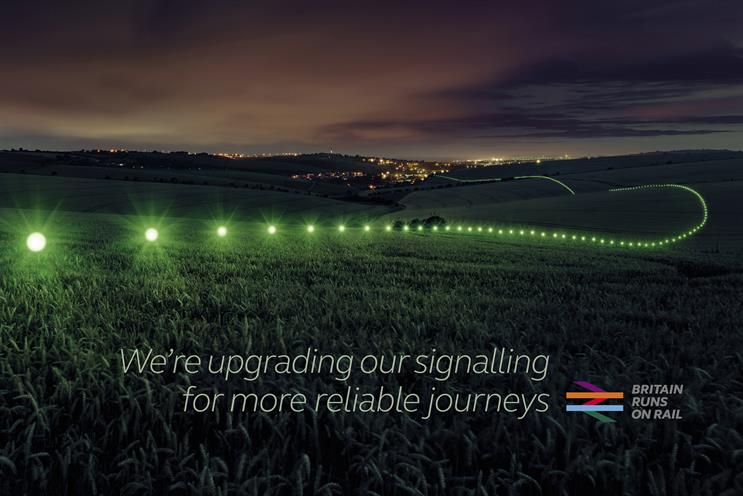 In the first cross-industry campaign since the train industry was privatised in the 1990s, the Rail Delivery Group will try to tell the story of the sector's £50bn upgrade plan to improve the railways.
Some executions will also attempt to convey the role the rail network plays in the lives of people living in the UK; for example, one poster shows deck chairs on a dramatic cliff top with the line: "Britain runs on great days out."
Created by M&C Saatchi and called "Britain runs on rail", the campaign starts with outdoor, digital, press and in-journey media sites. TV and online video will follow next year. Media is by Blue 449.
For the campaign executions M&C Saatchi head of design Simon Warden has created a colourful version of the 1965 double arrow logo that is used on signs, stations, railcards and tickets.
Edward Welsh, director of communications at the RDG, said: "The railway is an ever more vital public service, making a crucial contribution to national life. Billions are being spent building the railway the country needs and that passengers want and we must explain where that money is going and why it's needed.
"Our goal is to sustain support from the public and private sectors for continued funding of rail. There are many challenges and tough choices that government, the industry and the country face if we are going to deliver better services. Our campaign will help to encourage that debate."
At M&C Saatchi the copywriter was Curtis Brittles and the art director was Will Bate. Todd Antony shot the photographs.
Tim Duffy, UK chairman at M&C Saatchi, said: "Whether you are a passenger or not, the rail industry plays a vital role in all our lives. The new logo design and the accompanying campaign will convey the railway and its significance in a fresh way."
M&C Saatchi picked up the Rail Delivery Group's ad account last year after a pitch against Engine, which kicked off in October 2014.
Gerry Barney, the designer of the original British Rail logo, praised Warden's updated version: "The new version of the logo really works. It reinforces the totality of Britain's rail industry working together, and the diversity of the different companies and Network Rail.
"It's a faithful adaptation of my original 1965 design."