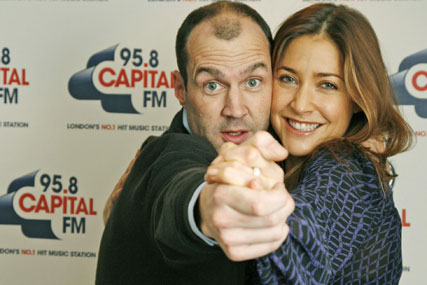 For the three months to 29 March, the show averaged 1.07 million listeners per week between 6am and 10am, up 9% on the previous quarter, according to the latest set of Rajar figures.
It was a good set of Rajars for the station which saw its two main breakfast show rivals - Heart 106.2 FM London's Jamie Theakston and Harriet Scott show and Magic 105.4's Neil Fox show - both lose listeners year on year and quarter on quarter.
Theakston and Scott remain in second place with their breakfast show on Heart 106.2 FM London, another Global Radio-owned station. During its hours of broadcast, 6am to 9am, the show pulled in 833,000 listeners per week. This was down from the 868,000 weekly listeners averaged in Q4 2008 and down from the 893,000 averaged in Q1 2008.
Fox's Magic breakfast show, also broadcast between 6am and 9am, pulled in 784,000 listeners a week during the period, down from the 813,000 weekly listeners averaged in Q4 2008 and down from the 831,000 averaged in Q1 2008.
Bauer Media's Kiss 100FM is now hot on the heels of Magic for the third spot in the London breakfast show market. The station pulled in 776,000 weekly listeners in Q1, up 120,000 listeners year on year, leaving it just 8,000 listeners behind Magic.
Steve Parkinson, managing director, Magic and Kiss, said: The quarter one Rajar results are the highest Kiss has ever had without any marketing. Kiss has a below the line strategy. Magic and Heart are more about TV campaigns but Kiss is more street. Our Kiss breakfast has carved out a niche for itself and in the 15-24 year old age group we have more listeners than Chris Moyles.