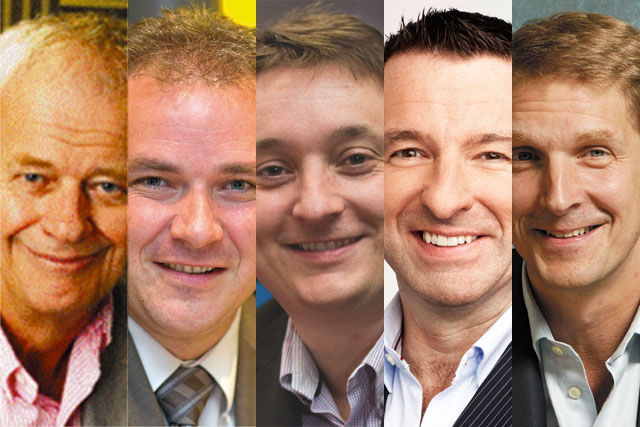 Today's figures from audience measurement system Rajar for the first quarter of 2012 brought good news for many commercial stations despite the industry's share against the BBC dropping slightly.
Absolute Radio network obtained its highest reach for almost 10 years, GMG Radio's Smooth continues to perform as a national station and Global Radio's 95.8 Capital FM kept hold of the London breakfast crown in the first full quarter of Dave Berry and Lisa Snowdon hosting its breakfast show.
Although the debate about the switchover of FM stations to DAB continues, and DAB's share of listening dropped from 19.4% to 19.1%, many of the digital-only stations achieved record reaches and Jazz FM put on a strong performance.
Here are what five senior industry executives think of their (and their competitors) results:
Stuart Taylor, chief executive, GMG Radio

"Both our national service Smooth Radio and Real Radio network have enjoyed significant year-on-year increases in reach which we are delighted with, but the growth for the industry in digital this quarter is particularly noteworthy.

"Radio has reported double-digit increases in many areas of digital listening – mobile listenership is up 24% on the year, which is a very impressive rise, and over a million more people are listening via a digital platform than a year ago (23.5 million).

"Our own Smooth and Real Radio audiences are embracing new ways to tune-in and we've seen growth in this area for both brands this quarter. In fact, almost a third of Smooth's audience now tune in via a digital platform."
Steve Parkinson, managing director, London radio, Bauer Media

"Bauer Place Portfolio continues to dominate in audience reach with 8.6 million to Heart network's 7.5 million, Capital's seven million, and Smooth's 3.3 million. We are pleased with some good results from Edinburgh, Manchester, Newcastle and Sheffield amongst others.
"Kiss and Heat radio have performed particularly well this time with the highest ever national reach for both stations. Off the back of a double Gold celebration at the Sony Awards this week, it's fantastic to see Rickie, Melvin and Charlie see another great result with 1.6 million listeners to their show, up 5% quarter on quarter and 6% year on year.
"I'm particularly pleased with such great share increases for Magic and Kiss in London – to have 13.3 million hours for Magic and 11.1 million for Kiss against commercial rivals Heart on 9.5 million hours and Capital on 11.6 million is a great result. Our relentless focus on music and content seems to be paying dividends.
"Couldn't be happier at Bauer Towers!"
Scott Taunton, managing director (GB), UTV Media

"UTV's successes at this week's Sonys have been replicated in the figures, with record figures for Keys and Gray on TalkSport and Juice FM in Liverpool achieving over two million listening hours following their gold award for Station of the Year on Monday.

"TalkSport's now in the position of having three weekday shows which achieve over one million listeners each and our weekend programming has also seen some strong growth.

"It will be interesting to see Q2's figures which will cover our move to broadcasting all sports programming and our announcement of our global deal with the Premier League."
Clive Dickens, chief operating officer, Absolute Radio

"Three million listeners for the Absolute Radio brand is a real milestone, especially as we are only three years old. Christian O'Connell has gained 50,000 new Breakfast listeners this quarter and 200,000 over the year and three Sony Radio Awards, not a bad week!

"The summer is looking great for us, especially as Johnny Vaughan joins Absolute Radio to celebrate the arrival of the 'greatest show on earth' to Great Britain.

"This quarter we have also seen the 'Radioplayer' effect on Radio listening via the internet, with 10% of Absolute Radio's listening now online. This is a real example of the internet increasingly redefining radio, and the challenge to commercial radio is how to monetise this new digital listening.

"We've developed and successfully launched our InStream business model and product and we now encourage our commercial radio counterparts to do the same."
Richard Wheatley, chief executive, Jazz FM

"Jazz FM's Q1 2012 results show record listening with 564,000 listeners listening for 2.4 million hours per week, this shows the continuing progress that Jazz FM has made.
"The figures also reflect well on the progress that digital radio is making with good results for other digital-only services and other award winners, such as [digital radio] PURE Highway 300Di being Auto Express Product of the Year.
"The availability of digital radio in car will be one of the major drivers of increased listening over the next few quarters alongside the public becoming more aware of digital-only services."
See full table of Rajar results here.
Click here to go to our RAJAR 2012 page.
Follow Maisie McCabe on Twitter @MaisieMcCabe