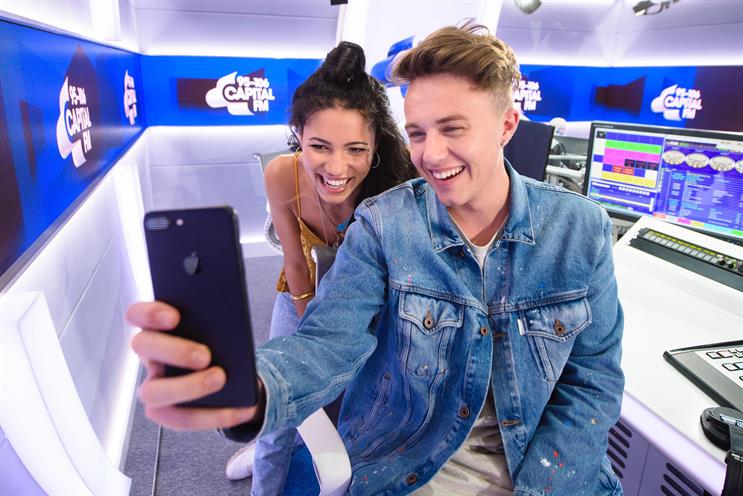 The Global-owned station grew its audience to an average of 2.24 million each week in Q1, according to the latest Rajar listening figures.
Its 29.5% audience uplift compared to the previous quarter bucks the generally dismal growth across the other major commercial stations in London.
Kiss and Magic both saw listeners switch off, while Heart London and LBC 97.3 experienced only small increases in their average weekly audiences.
Capital had taken a hit from its rival, Bauer Media's Kiss London, in the previous quarter, but the Q1 growth has turned its fortunes around.
It now stands well ahead of its rivals, with Kiss London attracting just 1.8 million listeners, a slide of 3.2% on the previous quarter, and down 10.5% year on year.
Global's founder and executive president Ashley Tabor said: "Global's brands have had another surge forward and I couldn't be prouder of everyone at Global today for all the hard work that has gone into these results.
"In the fiercely competitive London market we continue to attract new listeners and they are listening for longer.
"Capital London in particular has had an incredible set of numbers winning on reach, share and hours. As I hand back day-to-day running of Capital I couldn't be prouder of what the team have achieved in the last 12 months."
Capital's solid performance was bolstered by the popularity of its breakfast show, which grew a colossal 41% in the first quarter to 1.24 million listeners.
However, just days after the end of the Q1 reporting period, Capital's lead breakfast host Dave Berry announced he was leaving the station, with co-hosts George Shelley and Lilah Parsons replaced at the same time.
Roman Kemp, son of Spandau Ballet's Martin Kemp, took over the reins at Capital Breakfast on 2 May with co-host Vick Hope, so their appeal will be under the microscope in the Rajar figures for Q2.
"It will be interesting to see if the new presenting team directly affect the figures in the next quarter, as it will throw up a different type of audience, reminiscent of when Radio 1 brought in Nick Grimshaw to replace Chris Moyles," said Havas Media publishing manager Rich Hall.
In comparison, and reflecting its overall London activity, the Kiss breakfast show presented by Rickie, Melvin and Charlie suffered a little, with a 4.3% drop to an average weekly reach of 941,000.
Elsewhere, the third largest station in the capital, Bauer's Magic London, pulled in an audience of 1.45 million in the three months to 2 April 2017, which represents a 15.6% decline on Q4, and a 16.7% downturn on the same period last year.
Meanwhile, Global's Heart London and LBC 97.3 did manage small increases, but not quite enough to bring either into the top three.
Heart London grew 2.4% in Q1, to an average weekly audience of more than 1.39 million, while LBC 97.3 was up 1.6% to 1.07 million listeners.