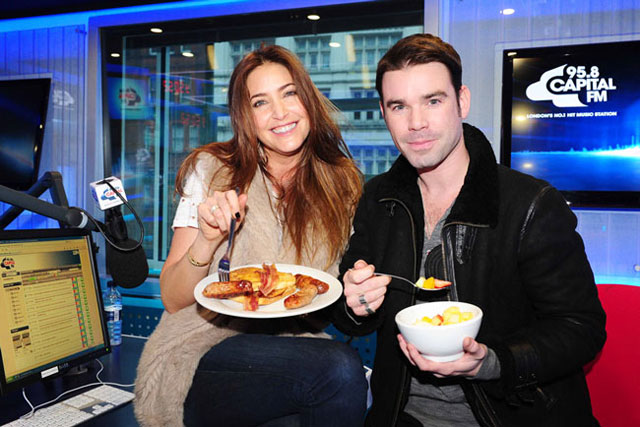 Capital London, Magic 105.4, Kiss 100 and Heart London all reported a drop in listeners since this time last year, according to the latest Rajar audience listening figures for the third quarter.
Kiss 100 and Heart London fared worst of all, with Bauer Media-owned Kiss losing 8.6 per cent of its reach since Q3 2013 and Global's Heart London haemorrhaging 16.9 per cent of listeners year on year.
At 1.81 million listeners in Q3 2014, Kiss' audience represented a drop of three per cent since the last quarter, while Heart's reach plummeted to 1.45 million, a 21.2 per cent dive on Q2.
Heart did particularly badly in its breakfast figures – losing its second place position in the previous quarter – after Jamie Theakston and former Spice Girl Emma Bunton's show's audience dropped to 526,000, down over a third.
The 35.9 per cent nosedive has pushed the duo's breakfast show into sixth place among the commercial stations, behind not only Capital, Magic and Kiss, but also Absolute and LBC.
Although retaining its spot as the number-one commercial station in London in the third quarter of 2014, the Global Radio-owned Capital has lost 7.9 per cent of its listeners since the same period in 2013.
Dipping to just fewer than two million people tuning in each week, the figures for Capital London for the three months to 14 September represent a decline of 9.1 per cent on the last quarter.
Despite the decline, Capital's breakfast show – hosted by Dave Berry and Lisa Snowdon – still pulled 1.01 million of London's radio listeners and maintained its position as the biggest breakfast show, although this was a decline of 6.5 per cent when compared to last year.
The results for Magic 105.4 were less gloomy, with a 0.4 per cent decline in reach year on year, as listening figures dropped to 1.96 million. However, this did represent a 1.6 per cent increase on the second quarter.
The Magic breakfast presenter Neil Fox lost 2.0 per cent of his listeners year on year, pulling in 781,000 Londoners each week to the end of Q3, ahead of his arrest on 30 September for claims of historical sexual assault.