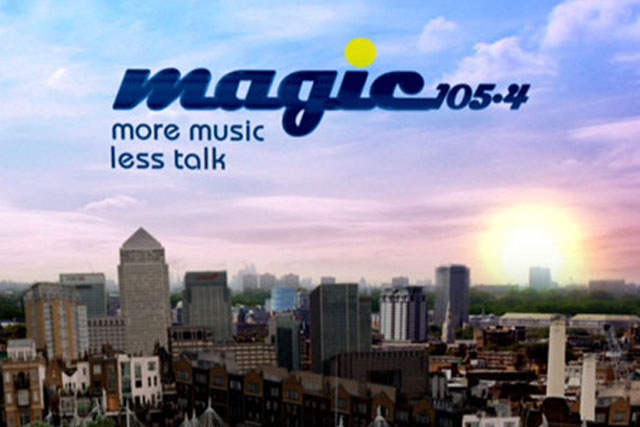 Magic stayed ahead of rivals Capital, Heart and Gold with 2.03 million listeners in the fourth quarter of last year, representing a 5.9% share of the market, according to Rajar figures published today (31 January).
Pete Simmons, programme director of Magic 105.4, said: "Through all the noise in London created from marketing and promotion, and simply more choice of services, the Magic team and I are delighted that Magic is still the Londoners' choice as favourite commercial music station.
"We have a simple but engaging mix of the greatest songs, presented by the likes of Neil Fox and Angie Greaves, with weekly special appointments to listen from Rick Astley and Kim Wilde."
Global Radio's Capital remained in second spot, after a slight quarterly dip contributed to a 12% year on year drop in listeners, to 1.98m. There was something for the station to cheer about as star duo, Dave Berry and Lisa Snowdon, retaining the crown of the most popular breakfast show among London's commercial stations, with 1.09 million listeners a week.
This places it well ahead of rivals Kiss 100 FM's Rickie, Melvin and Charlie with 797,000 listeners, Magic's Neil Fox with 717,000, Heart's Jamie Theakston and Harriet Scott with 643,000, and Absolute Radio's Christian O'Connell with 610,000.
Global's Heart London fell 6.5% in quarter, 11.6% year on year, to 1.71m listeners, a 4.2% share.
Bauer's Kiss 100FM and Global's Heart remained in third and fourth place in London's commercial stations, with 1.82m and 1.71m listeners respectively.
Elsewhere, confirming a tough period for the sector, Global's Gold London dropped 15.6% on the quarter, 20.5% year on year, to 298,000 listeners.
Reach \'000
% Change
% Change
Share %
London Stations
Q4 12
Y/Y
P/P
Q4 12
Total Absolute Radio (London)
890
9.1%
7.0%
3.3
Buzz Asia 963 & 972AM
88
-18.5%
0.0%
0.2
Capital London
1983
-12.0%
-0.8%
4.8
Choice FM London
568
4.6%
11.8%
1.4
Gold London
298
-20.5%
-15.6%
1
Heart London
1707
-11.6%
-6.5%
4.2
Kismat Radio 1035 (Greater London)
69
0.0%
-14.8%
0.2
Kiss 100 FM
1816
-3.1%
-7.0%
4.3
LBC 97.3
902
-6.7%
-2.7%
4.3
LBC News 1152
411
3.8%
-6.4%
0.8
Magic 105.4
2031
-6.3%
-6.6%
5.9
Premier Christian Radio
175
96.6%
6.7%
1
Smooth Radio London
514
12.7%
19.3%
1.7
Sunrise Radio (Greater London)
227
-31.6%
-19.5%
0.7
XFM London
445
9.6%
19.6%
1.2
Follow @DurraniMix