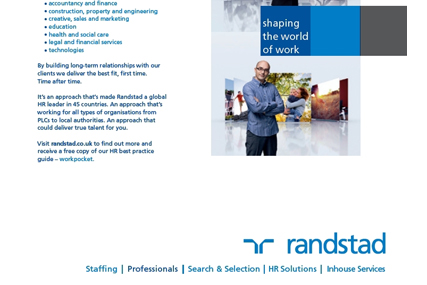 Randstad, a worldwide company with headquarters in the Netherlands, aims to build on its UK profile following its acquisition of its Dutch competitor, Vedior, in 2008.
The marketing campaign is being delivered by media agency Mindshare and creative agency Publicis.
Randstad's campaign uses the main strapline: "True talent shapes business – true knowledge finds it" and continues with: "Today, more than ever, organisations want to recruit the right person, first time... We deliver the best fit, first time. Time after time."
The campaign includes primetime TV slots, full-page colour ads in the national press, airport and online advertising, and has sealed coverage with ITV, Channel 4, the Financial Times, The Times, The Daily Telegraph, The Guardian, Economist.com and BAA-site airports among other media owners.
Randstad's takeover of Vedior meant it acquired separate specialist recruitment consultancies, which it brought together under the company's brand. Now 80 per cent of its business by sales is Randstad-branded or co-branded.
Colin Downing, marketing director of Randstad, said: "Now that we have consolidated and rebranded our UK operations, it is the perfect time to invest in building our brand equity with our key stakeholders."
He added: "We are an extremely ambitious company and the fact that we are investing in the current economic environment, reflects the enormous potential we see for Randstad to build market share in the UK, while many of our competitors are restraining their marketing investment."
Randstad is continuing with sponsorship and online activity in July and September.