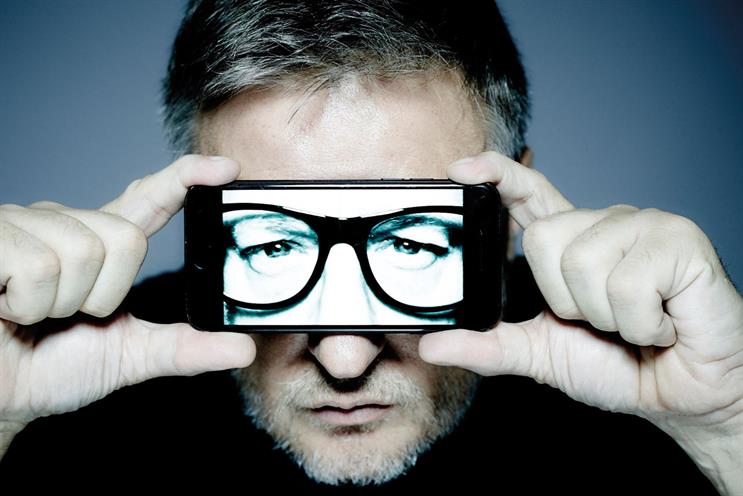 Rankin stretches out on a white sofa in a room decorated with a skeleton and a stuffed gorilla's head. The staff at his photographic studio, near London's Kentish Town, are buzzing after a busy day, during which he has been taking pictures of actress Gillian Anderson.
The British photographer has shot tens of thousands of portraits over a career of nearly 30 years, with subjects ranging from Queen Elizabeth II to the Queen of Pop – Madonna. Rankin is generally unfazed by celebrity, but admits to being "scared shitless" recently by one star – Miss Piggy. This autumn Rankin photographed and filmed the Muppets for Love magazine. It was "one of the scariest things I've ever done", he says.
"That was, like, 'Aaah! It's the Muppets'," he recalls. "It's comedy and I'm not an expert comedy director. But I just did it. I was, like, I'm not going to be scared."
Whether he is photographing the Muppets or shooting Dove's seminal "Real beauty" campaign, Rankin has built a career on taking risks. Along with his portraits, he has created editorial and ad campaigns for Nike, Diageo, Vogue and Rolling Stone among others, and launched four magazines, starting with culture bible Dazed & Confused in the 1990s.
After expanding into film and digital media, Rankin founded creative agency The Full Service four years ago to serve brands in fashion and beyond. This year, The Full Service has produced work for brands including Samsonite, Coco de Mer, Macmillan and Restore the Music.
However, Rankin believes the creative industries are at a crossroads, with fewer clients willing to be brave and push boundaries. "Very few of them are interested in breaking the rules of advertising. Because of digital, people are unsure what advertising is any more, so they're holding on to things they understand," he says. "It's a strange and stormy time for everybody but, in a way, that will probably clear a path for the future."
Born John Rankin Waddell in Paisley, Scotland, Rankin does not come from a creative background. His father was a salesman for an oil company and his mother a housewife. Rankin went to college to study accountancy, but found himself in halls of residence with some art students, who showed him "there was more to life than getting a job and settling down", he says. When he befriended someone who was studying photography, Rankin asked whether he could have a go with his camera and "it was like a light going on in my head".
With a new ambition, Rankin transferred to the London College of Printing. He originally wanted to become a documentary photographer. "I was interested in how I could change the world with photography," Rankin says. However, he soon realised he wasn't capable of working in that genre.
LCP was a "dry, serious" art school, Rankin recalls. But he met someone there who would help change the course of his career – Jefferson Hack, who was also frustrated by the blandness of their studies. The pair worked together on the college magazine until they hit upon the idea of starting their own publication.
"I had no concept of being able to create a magazine," Rankin says. "For most photographers, when starting out with no connection to the business, it was the height of success to get your work printed. At that time, it was the way to communicate. TV and film were beyond our reach financially, so magazines were what we could afford to do."
Their first independent project was a black-and-white issue, printed on a poster, and from there "it was no turning back", Rankin says. In 1991, Dazed & Confused was born as an alternative style and culture title. Over the next few years, Rankin and Hack met people in nightclubs or bands on London's thriving music scene, whose art provided content for the magazine's pages. Those budding connections opened doors, leading to shoots for the likes of Björk and Kylie Minogue.
"We really wanted to have a platform to get people's ideas into," Rankin explains. "We were obsessed by high and low culture. We wanted to meet people who were doing all these things, and this was a way of doing it. Our theory was to make it a piece of art and give people a voice."
Now rebranded Dazed, their student project has become a fully fledged publishing company with digital, video and branded content divisions. Rankin has since launched three magazines, most recently Hunger in 2011, a biannual fashion, culture and lifestyle publication.
But times have changed and, given print's decline, Rankin says he would not start another magazine, despite his love for the medium."I've got ideas for things, but I would start a blog or online title, and then maybe do a printed version afterwards as a collectible," he explains.
"People don't want to pay for music or magazines any more. The world has moved on," he continues. "It's sad, but it's not a bad thing. I find people who try to live in the past very short-sighted. It's not the 90s any more."
Since bidding farewell to the decade in which he began to flourish, Rankin has tried to take an open-minded approach to his career. He argues that as photography is still a young art form, its practitioners shouldn't resist the digital revolution. "I don't want to live in the past. Photography is very much living in the moment and looking to the future," he says. "[These changes] are dangerous and scary, but fascinating."
Inspired by developments in digital technology, in 2009, Rankin undertook what he calls the biggest project of his career – Rankin Live. The initiative involved photographing 1,000 people and instantly projecting their portraits to form an interactive exhibition. "It was like practising the guitar for three months every day," he says. "I learned so much and became a much better photographer." He continues to hold smaller Rankin Live events two or three times a year. This month, he photographed 40 people and streamed the images live on social media.
However, digital advances have their downside and are damaging some elements of creativity, Rankin warns. "It's definitely decimated parts of the [photography] industry. Mid-range photographers are finding it almost impossible," he says. "People think 'I can just do it on my phone.' Everyone thinks they're a photographer."
One of his biggest gripes is the emergence of "copycats", a trend he believes will only get worse. "When people find something on the internet, they think it's theirs," he points out.
He rails against this because, since his art school days, Rankin has been interested in working differently from everyone else. Many of his projects have been about questioning conventional notions of beauty and style.
As retouching tools, such as Photoshop, emerged, Rankin became fascinated with their use and began playing with those ideas in his work. In 2001, he shot a Michael Jackson cover for Dazed & Confused (pictured, above) but, unbeknown to many people to this day, he never actually photographed the singer – it was a lookalike.
He later told the magazine: "At that point, people didn't really understand how much retouching was taking over in fashion photography. It was becoming the norm to digitally enhance everything – every single photo you would see. I wanted to show how ridiculous that had become."
This artistic mission was never so evident as in Dove's "Real beauty" campaign, created by Ogilvy & Mather in 2004, which Rankin developed with creative director Dennis Lewis.
"We thought, let's just make it about real women and let's make a very simple image that wasn't conceptual. Let's let the women be the women," Rankin recalls. "We fought hard to get a really diverse group of women, because people were uncertain about it."
Those pared-down images of "everyday" women in white underwear have become a cornerstone of beauty advertising and a modern-day marketing success story. Since then, Rankin believes advertising has undergone real change in how it portrays females.
"We won," he says. "We won that battle of reduced retouching and we won the battle of diversity and uniqueness."
Is Rankin right? While some progress has certainly been made in creating more diverse advertising, the industry has some way still to go. But the photographer claims "that agenda is part of every advertising campaign you do now".
It is at least part of Rankin's agenda at The Full Service. One of the reasons he set up the agency was because he saw a "gap in the market" to help fashion brands tell better, more authentic stories.
"Fashion is about image and buying into fantasy," he says. "[Some brands] just want things to be pretty, but that's dying because consumers want more. You can't just keep putting pretty pictures up."
While The Full Service has worked with fashion brands such as Belstaff and Dune, it has also branched out into other sectors, from cars to charities. According to Rankin, the shop tends to go after smaller brands that don't have a budget for the bigger, traditional ad agencies. These include lingerie and erotica brand Coco de Mer, for which it has created edgy films, including one for Valentine's Day this year, which featured Pamela Anderson.
Rankin also set up The Full Service to be able to turn around more work, at a faster rate, he explains. The rise of digital means brands need more content than ever, but he still believes in devoting the same level of craft to those assets, whether it is an Instagram post or Boomerang video.
"That's what today's culture is – it's fast and it's exciting, and you've got to keep up with it," he says. "But there's an art form to what we do and it takes time. We're all just trying to catch up with the craft being as good."
Rankin is unsure where the future will take him; he never expected his college magazine to become a thriving publishing business, or to go into filmmaking, or to brush shoulders with the Muppets. But the same principle that has driven him so far will continue to serve as a guiding light. "I'm hungry," he says. "But I hate the idea of being put in a box."