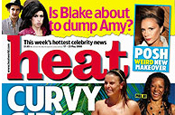 The news will come as a blow to Quiet Storm, which has handled the account for the past eight years.

Rapier has been briefed to develop a new campaign for the weekly gossip magazine that will also promote Heat's radio and online offering.

Liz Martin, the head of marketing for Heat, said: "Heat continues to define the celebrity market entertaining its consumers in print, online and on-air.

"Quiet Storm have been instrumental in the Heat success story to date, but as the brand evolves editorially, it is time to take a new marketing approach which calls for a new agency.

"Rapier stood out because they are able to deliver the integrated communications approach that Heat now needs plus they came up with some great, funny on-brand creative ideas."

The new campaign, expected to break later in the year, will seek to increase sales of the magazine, which suffered the third biggest drop in circulation according to last year's ABC figures, with circulation dropping 15.8 per cent to 470,000 in the first six months of 2008.

The most recent TV spot for Heat, created by Quiet Storm, featured a newsagent explaining that those who don't read the magazine will have nothing to say in conversation.

He explains: "Buy Heat every week and then nobody will laugh at you."