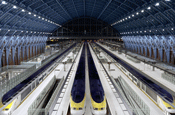 Rapp will be briefed with working across three core areas - CRM, loyalty and e-commerce programmes.

The appointment follows a six-month search by Eurostar, after the company called a review of the account in May.

Good Technology and Gyro were both involved in the initial process, but were eliminated from the running at the beginning of October.

In recent years, Eurostar has used Proximity as its lead DM agency, as well as working with a number of other below-the-line shops on a project basis.

Proximity initially accepted an invitation to pitch for the business, but withdrew in the early stages.

Proximity had helped launch the company's 186mph high-speed service, as well as working on its frequent traveller programme.

Louise Holah, Eurostar's e-commerce, commercial and CRM manager, said: 'We look forward to working together on the many exciting opportunities ahead."