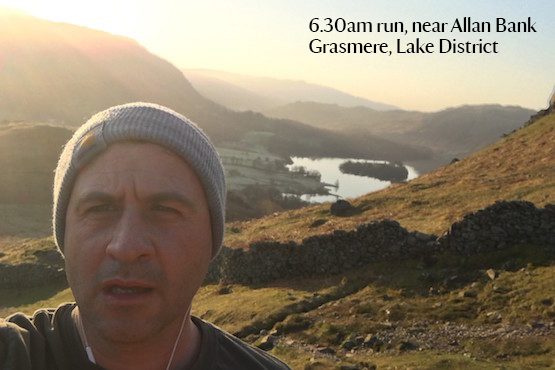 Big things are afoot at the National Trust. No, we're not talking about sightings of legendary beasts atop the iconic White Cliffs of Dover. We're talking about some sizeable developments within their brand and marketing function. Before we hear from Mark Scott, their marketing agency director, about these exciting changes, here's what we know.

The National Trust is a rare breed: there's no other organisation quite like it and it's hard to think of another brand that inspires such genuine emotional connections with its members and supporters. They're already recognised as one of the UK's top storytelling brands (Aesop, 2015 Brand Storytelling report), and their Instagram #NTChallenge continues to win hearts and minds and followers. Their current '50 Things To Do Before You're 11 ¾' campaign has also struck a chord with tens of thousands of families across England, Wales and Northern Ireland (and picked up a flurry of awards).

But like every brand, they're always looking for new ways to make sure that they're producing work that stands out widely and gets talked about; work that makes people feel a connection to them, and deepens existing connections. That's why they've recently reorganised their in-house marketing agency that sits within the brand and marketing function. There's a new, more joined-up structure in place. New technologies and tools. Now they need some new blood. They're currently looking to recruit into six key roles: copywriter, programme leads, production manager, senior planner, head of creative, and a head of marketing operations.

But why believe it? What is it about the National Trust that warrants a creative or marketing professional's attention? What makes the Trust a great place to work? We caught up with Mark Scott, marketing agency director, to find out.
First off, what was it that attracted you to work in marketing at the National Trust?

It would be easy to say, "Yes, I've long admired the Trust and I believe passionately about its work, and yes, of course I know it is a charity". But, in all honesty, that wasn't initially my guiding light. I hadn't engaged hugely with the National Trust before.

I was, however, curious about the job title: marketing agency director. A hybrid marketing communications director and agency MD – and at the National Trust. That was an intriguing start. The interview process gave me more insight. Not only did it give me a deeper understanding about the fantastic, important work that the Trust does, but that this was an organisation that was hungry. It wanted innovation and it was starting to challenge brand perceptions. It was starting to talk more about the outdoors and being more visible to families. It was becoming more relevant so when the opportunity to lead the marketing and digital functions, and contribute to this direction of travel came my way, I jumped at it.
What do you like about the company culture at the National Trust?

It's an organisation that places a lot of emphasis on values and behaviours which has a positive effect. People are supported and encouraged to succeed and pursue their career aspirations. Of course, there's an expectation for people to work hard and deliver, but there's recognition that we all have lives outside of work.
What's the biggest positive difference you've noticed working for the National Trust compared to previous employers?

People are incredibly passionate about the organisation and believe in its cause. This passion, coupled with the huge levels of empowerment, fuels creativity and an appetite for trying new things.
What makes you proud to work in marketing for the National Trust?

Firstly my team. They have taken the Trust on a huge journey over the last few years by delivering a more planned approach to marketing communications. They've delivered integrated brand campaigns, developed brand building digital platforms, such as our website and app, and consistently deliver business objectives through supporter-led marketing activity.

Secondly, the positive reaction I get when I tell people what I do and who I do it for. That feels good, really good.
What's the campaign you've most enjoyed working on?

Where to start? There are loads. I think the one that stands out is '50 Things to do before you're 11 ¾'. Driven by insights from a National Trust report on Natural Childhood, the campaign aims to get kids outdoors and closer to nature – and having fun! As a campaign it's delivered business objectives but has also brought different parts of the organisation together, from TV advertising to the activities that happen at our places.
What are you most looking forward to being a part of at the National Trust in the next 2-3 years?

We're on a really exciting journey. We have a clear 10 year organisational strategy and a clear framework for building our brand and engaging our supporters. We've invested in digital platforms and new data-driven marketing tools. From a marketing point of view, the opportunities are vast.
Thanks, Mark.
Click here to find out more about the National Trust, their internal marketing agency and the opportunities