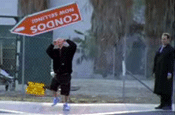 Following the cancellation of a commercial job, Ledwidge decided to fly to LA and shoot some footage of a spinner.
This is the LA-based phenomenon of people who are paid to hold billboards on the city streets taking to spinning them around their bodies in expressive shows of dexterity.
He said: "The kid spinning was something I'd wanted to shoot for a few years. I'd always see them spinning in LA as I drove on La Cienega to the airport.
"They were surrounded by traffic, noise and concrete, and had turned one of the most mundane jobs in the world into something beautiful that I found inspiring."
He then brought the footage home, edited it to the Elbow track and sent it to a friend at Universal.
He said: "Elbow saw it and thought it would be great for the track and to me it felt like a perfect match."
CreditsBand:
Elbow
Track:
One Day Like This
Production company:
Rattling Stick
Director:
Ringan Ledwidge
Producer:
Sally Humphries
Label:
Fiction
Commissioners:
Marc Robinson, Ross Anderson