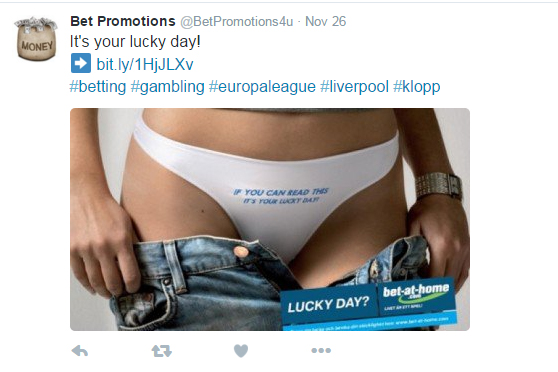 A tweet by BetPromotions4U, which linked to bet-at-home.com, told Twitter users: "if you can read this it's your lucky day". The message, posted on 26 November 2015, promoted a European football match involving Liverpool.
The Advertising Standards Authority itself challenged whether the ad broke the Committee of Advertising Practice code which says marketing communications must not link gambling to seduction or enhanced attractiveness.
When contacted by the ASA, bet-at-home.com said the tweet was by a Croatia-based affiliate, Goran Pantic, and that their affiliate agreements included abiding by the CAP code. They said the creative "it's your lucky day" was meant to be used in Malta.
Mr Pantic, who later deleted the tweet, said the geo-targeting of the bet-at-home.com web site meant it was not possible to avoid UK consumers who clicked on the link going through to the company's UK site.
In its ruling, published today, the ASA said: "We considered that including the image of a woman pulling her trousers down and the text on her underwear stating 'If you can read this it's your lucky day' linked gambling with sexual success. We therefore concluded that the ad breached the Code."
Paddy Power wheelchair ad 'unlikely' to cause offence
Liverpool Football Club also featured in a separate ruling on an outdoor poster ad for Paddy Power. Two people had complained on grounds the ad would cause widespread offence.
The poster, seen in January in Liverpool, contained an image of a wheelchair with "Liverpool FC" on its back, accompanied by the text "You'll Never Walk Alone" and "(Or ever again if you play for Klopp)".
Paddy Power said it was widely known by football professionals that Jurgen Klopp, Liverpool's coach, was using high-intensity training techniques, which had caused 13 players to be unfit for an upcoming match.
The bookmaker, known for its provocative tactical ads, said it believed this spot was not offensive as it did not make fun of a disability.
The ASA did not issue a ban on the Paddy Power ad and said: "We considered that although the ad may be seen as distasteful by some, it was unlikely to cause serious or widespread offence."