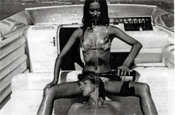 The magazine ad featured a black-and-white image of a scantily clad man and woman on a boat.

The woman, with her legs spread apart, was pictured pouring Champagne on to the man's bare chest.

The Advertising Standards Authority today said: "We considered that readers of the ad were likely to infer that her motive for doing so was seduction.

"We considered that the handling of Champagne in this way would be seen by readers as a metaphor for seduction."

It ordered that the ad was not shown again in its current form.