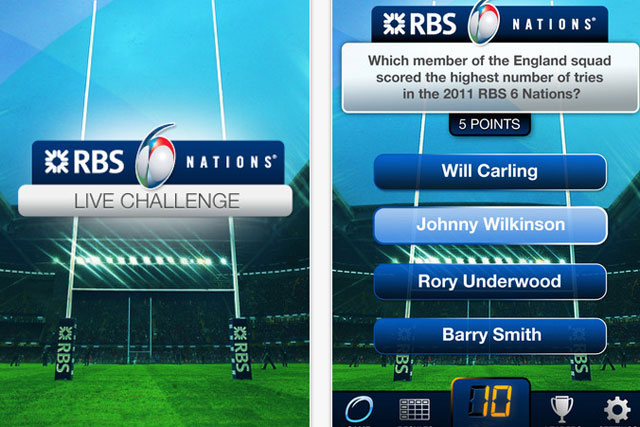 The average number of active players per match stands at 9,000 after two of the five rounds of tournament matches.

The number of downloads parallels the success of Heineken's free Star Player app, for which AKQA won a Gold Cyber Lion at the Cannes advertising festival.

The RBS app was conceived by Synergy, Engine's sponsorship agency, and delivered by sibling agency Jam in time for the start of the tournament on 4 February.

It challenges fans to predict the result of penalties, conversions, five-metre scrums and line-outs, take part in opinion polls, and answer RBS 6 Nations rugby quiz questions.
Star Player was downloaded 30,000 times within two weeks of its launch in May 2011, when the potential user base was smaller than today's.
The rugby app is proving more popular on Apple's iOS platform, with around 40,000 downloads, than on the Google-backed Android platform, with around 10,000 downloads, according to Jam. Its profile was raised on the Apple App Store by being featured as a "new and noteworthy" app.
The app can also be played via Facebook, but RBS has not revealed how many times it has been downloaded on the social networking site. Its RBS 6 Nations Facebook page currently has 654,244 fans.
Tim Crow, chief executive at Synergy, said: "Integrating social engagement with scale and credibility is fundamental to the succcess of sponsorship in the social media era and this is exactly what the RBS 6 Nations Live Challenge aims to deliver."
RBS has been the title sponsor of the 6 Nations tournmament since 2002.
Follow Daniel Farey-Jones on Twitter @danfareyjones