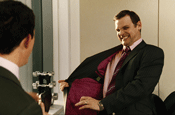 The pitch is expected to take place in the next couple of weeks and will involve around 20 RBS Group roster agencies, which include M&C Saatchi's direct marketing arm, Lida, and CHI & Partners.

It is understood that RBS Group, which operates brands including NatWest, Royal Bank of Scotland and Direct Line, aims to consolidate its agency roster down to two or three agencies.

Separately, RBS has still to reach a decision on its digital advertising pitch. It called the pitch last year with a view to consolidating its digital advertising arrangements.

The company initially shortlisted six agencies, including glue London, M&C Saatchi's digital arm, Play, and CHI & Partners, to pitch for the business, which spans both the RBS and NatWest brands. It is understood that two agencies are now left in the running to win the business.

The digital and direct reviews do not affect the above-the-line business, which is handled by CHI & Partners and M&C Saatchi.

An RBS Group spokesman said: "We constantly review our suppliers to ensure that we best meet the needs of our businesses."

Last week, RBS announced it was planning to cut up to 2,300 jobs across the company.