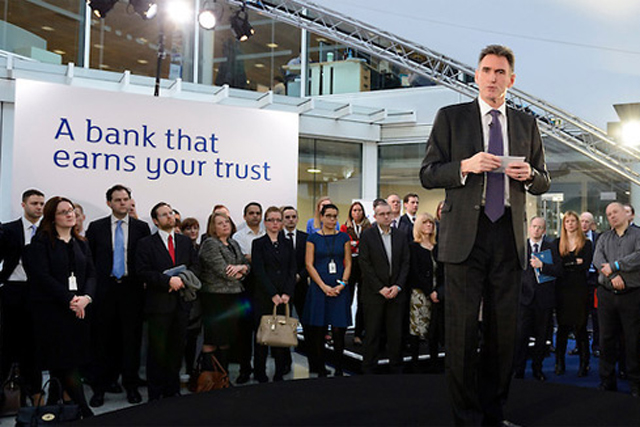 Ross McEwan, the chief executive of the Government/ taxpayer bailed-out bank, appeared before employees yesterday, against a backdrop of a placard stating, "A bank that earns your trust".
He said that plans were underway to ensure RBS earns its customers' trust by "serving them better than any other bank" and changing the bank's structure and culture, which for its critics is emblematic of the avarice of the banking sector.
McEwan said: "RBS will be a smaller, simpler and smarter UK-focused bank that puts the needs of its customers at its core.
"We want our customers to trust us more, and to do more business with us which, in turn, will improve the performance of the bank.
"By 2020, we aim to be the number-one bank for customer service and the most-trusted bank in the UK."
McEwan outlined a series of changes to its services for personal and business customers, including stopping offering different rates, refraining from offering new customers better deals than loyal customers, and cutting the amount of time it takes to open a personal account from five days to one day.
The chief executive also outlined a "simpler" structure.
He said: "We will move from a bank with seven divisions and seven support departments to a bank with three customer businesses – personal, commercial, and corporate – supported by one shared support structure.
"By removing complexity and connecting the businesses, we will be able to improve the things that matter to customers."
RBS also plans to dispense with its global aspirations, seeing a move away from "a structure fit for a global titan to one better suited to a first-rate UK bank", McEwan added.
Yesterday RBS reported its sixth consecutive annual loss, after being bailed out by the Government in 2008.
Speaking on a conference call following the release of the results, McEwan admitted that RBS was the "least trusted bank in the least trusted sector".
RBS is not the only bank attempting to improve perceptions. Earlier this month, Barclays revealed details of a "balanced scorecard" against which it will judge itself against; while the Co-operative Group asked the public to help "shape its future" post its own banking scandal.