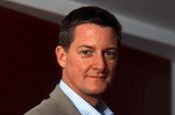 RDF Digital and Ogilvy Entertainment, the agency's branded content division, will work together over the next 12 months.

RDF was set up last year by RDF Media Group to create content specifically for the internet.

Zad Rogers, the creative director of RDF Digital, said: "The seismic changes in the media landscape means producers can no longer rely on the old funding models and old working relationship.

"The glass walls that kept advertisers and programme-makers apart are coming down, enabling innovative and popular content to be created through new creative and commercial partnerships".

Guy Lambert, the managing director of Ogilvy Advertising, added: "One of our missions has always been to future-proof our clients' brands, and with both the digital space and branded content now so important, we feel we've secured an important deal with a like-minded forward-thinking company."