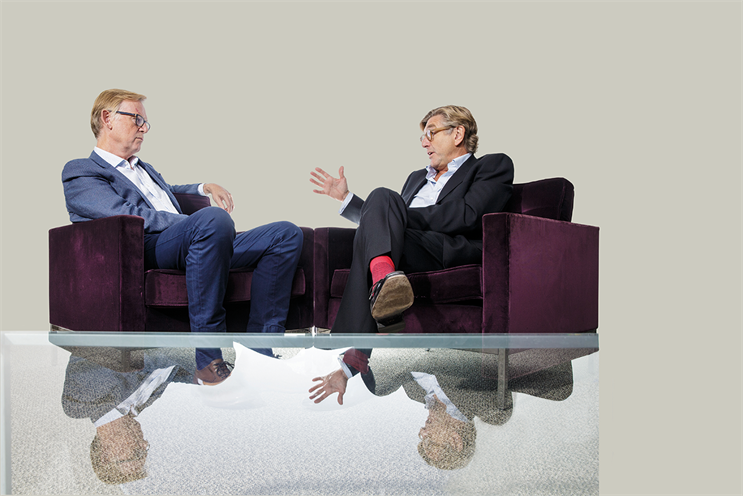 If the past 50 years have seen brands and advertisers concentrate on marketing product benefits, the next 50 will see them also focus on creating positive social change. That's the contention of incoming Advertising Association president Keith Weed (pictured, right), whose tenure at Unilever has seen the firm promote healthy body image and un-stereotyping in advertising just as much as its range of products. In a conversation with the Advertising Association's chief executive Stephen Woodford (pictured, left) to mark Campaign's 50th anniversary, Weed discussed the evolution of advertising's purpose.
Stephen Woodford Let's go back to 1968 when Campaign launched and imagine we jumped forward to 2018. What would surprise us most about the changes we'd be seeing?
Keith Weed Personalisation. It's always been the great wish of a marketer, to be able to have a one-on-one conversation with you as though you were having coffee or a beer in the pub. We learn so much through data and social listening today that we are able to serve content that people enjoy, and surprise, surprise, it results in higher engagement.
The big tech platforms are also something we now take for granted. I don't know how we ever lived before being able to Google something or share on social media. That's massively enriched our lives, connected us to people; it has been fabulous.
SW Conversely, if we could turn the clock back, what would you like to have from then and bring to now?
KW The simplicity by comparison. At times we are too clever by half. One of my big fears is we fragment our brands across so many channels – on the one hand, it's marvellous; but you can only spend your pound once, you can only spend your minute once, and you've got to be careful how you do it to ensure the consumer sees and hears a coherent voice from the brand.
SW In our latest adspend data more traditional media formats were showing good levels of growth, as well as continued strong growth in digital. Do you sense there is some sort of rebalancing going on?
KW If you're suggesting you're feeling a drift back to a different equilibrium, I don't sense that.
I think what the new media offers is opportunities to actually build brands in different ways – and we're going to have to. Technology allows us to target people and be as relevant as possible in a world where today's consumer is hyper-connected and expects a fast, frictionless experience. We've seen a real trend towards subscription models and ad-blocking.
We need to engage people differently. It's important that we invest in what we call 'seek out content' and build our brands through developing content that meets the passions and needs of consumers, rather than just interrupting them. Globally 650 million people ad-block now, but in a way, it has always been around – you'd get up and make a cup of tea during an ad break – but now you can just do it through a tap on your phone.
SW What's stayed the same over the past 50 years?
KW What is still the same is the fundamentals of what brands are and what brands do. Brands simplify life. Brands tell you that for a given value you'll get this sort of performance, this sort of quality, taste, fragrance or whatever, and when you go into a supermarket or online, you can be sure of what you're getting.

The other thing that was always there back then and is becoming more important now is McCann's mantra of "truth well told". I still think that the best advertising has always adhered to this and that's even more evident when a brand has purpose.
One of the first things I did when I arrived in this job was to close down our corporate social responsibility department and said no, we're mainstreaming sustainability; this is everyone's responsibility. For example, part of our campaign on our soap brand, Lifebuoy, in developing countries is to teach children the act of washing hands with soap to #HelpAChildReach5. This has a proven impact to reduce illness and deaths. And if we teach people to wash with soap, they'll use more soap, which makes it good for business as well. That to me is the sort of social, environmental 'doing good' that's sustainable – good for the world and good for business.
SW Let's think about trust in advertising over the past 50 years. In the AA's tracking we're seeing a long-term decline. What can we do about this?
KW If a good friend tells you something, you're more likely to believe it. If someone you don't know or, worse, someone you don't trust, tells you something, you're not going to believe it. Just translate that back to advertising where we've seen monumental changes in the past 50 years, and a decline in trust. But 2018 feels like a tipping point. We are more aware of the unintended consequences of some parts of the new digital platforms. That's why earlier this year, we called on the industry to collectively build consumer trust back into our systems and society, tackling the issues of fake news and fake followers. A brand without trust is just a product.
SW Thinking forward another 50 years, what would you hope that we could look back on with pride?
KW We are at a turning point, witnessing a very exciting time of change. A lot of the big new tech platforms are becoming more established, facing their responsibilities and the power they hold in shaping society.
I've also been hugely encouraged by the Unstereotype Alliance. Joining forces to banish stereotypes in advertising, in partnership with UN Women and a remarkable gathering of industry leading advertisers, agencies and media is making a positive impact on society. But diversity is still practised in a way that often inadvertently perpetuates stereotypes by painting whole groups as one homogeneous entity without accounting for the vast array of sub-cultures.
Understanding and addressing the intersectionality of gender with race, ethnicity, sexuality etc will be a key action. By using the power of advertising we can effect positive cultural change to help shape perceptions that reflect realistic, non-stereotyped portrayals of people. This is something I am proud to be a part of.
Changing times
• Personalisation has radically altered how brands and the public interact and relate to one another.
• However, tech trends mean brands often spread themselves too thinly.
• Quality advertising will always have a place at the foundation of brand-public relationships.
• Advertising can – and should – help push society forward through inclusivity and representation.
• In 2019 we will see widespread recognition that brands have a positive social impact.
The AA in numbers
• 94 YEARS: The length of time the AA has represented the role, rights and responsibilities of UK advertising.
• £22BN: The total UK advertising expenditure in 2017.
• 68: Members of Front Foot, the industry network for media owners, agencies and brands that promotes the role of advertising and funds Credos.
• 31: The number of reports on advertising produced by Credos, the industry's think-tank, since its inception in 2010.
• 1972: When the AA ran ads in Campaign to support the UK's entry into the EEC – now we fight for the best Brexit outcome possible for our industry.