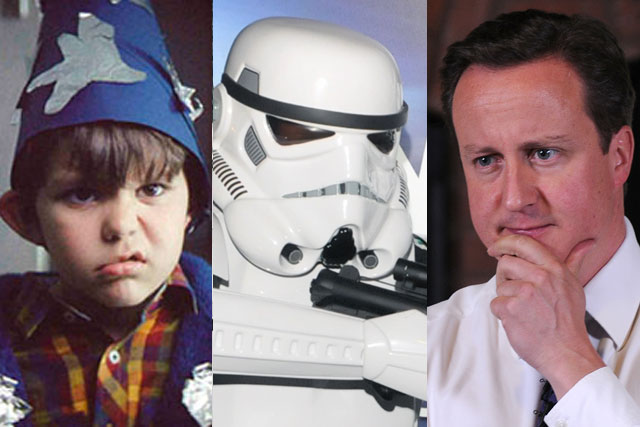 GroupM and UM land Johnson & Johnson's £200m media business: Johnson & Johnson, the health and skincare company, has handed IPG's UM and GroupM's MEC its EMEA media planning and buying business, estimated to be worth £200m. (Media Week, Friday 26 October)
Tesco culls New Covent Garden Soups: Tesco has axed New Covent Garden Soup Co from its shelves, 12 months after the supermarket launched its own chilled soup. (Marketing, Monday 29 October)
Diageo seeks greater marketing creativity with 'Shooting for 10' philosophy: Diageo is attempting to transform its marketing creativity through an ambitious global drive called 'Shooting for 10'. (Marketing, Tuesday 30 October)
Adam & Eve/DDB and Manning Gottlieb OMD land top gong at IPA Effectiveness Awards: Adam & Eve and Manning Gottlieb OMD scooped the Grand Prix at the IPA Effectiveness Awards 2012 for John Lewis, while Abbott Mead Vickers/BBDO was named Effectiveness Company of the Year. (Campaign, Tuesday 30 October)
American Apparel and Gap cause Twitter outrage with Hurricane Sandy sales: When will brands ever learn? Do people not use the internet and read stuff? When it comes to social media we are now at a point when we have a fat pile of case files detailing how various brands have failed at social media, but this does not apparently stop other brands copying these mistakes over and over again. (The Wall, Tuesday 30 October)
How social media reacted to the $4bn Star Wars Disney deal: Most of us woke up this morning to hear the news that George Lucas had sold his film company, LucasFilm, to entertainment giant Disney for $4.1bn (£2.5bn), and a new 'Star Wars' film is planned for 2015. (The Wall, Wednesday 31 October)
Prime minister picks Gray and Squire for top comms roles: David Cameron has appointed former Treasury man Jean-Christophe Gray to replace Steve Field as his official spokesman, PR Week understands Susie Squire, who currently runs the press operation for the Conservatives, will replace Cameron's press secretary Gabby Bertin. (PRWeek, Wednesday 31 October)
Lloyds looks to build digital agency roster: Lloyds Banking Group has called a review of its digital business as it looks to beef up its roster. (Campaign, Thursday 1 November)
Tesco switches to emotional advertising for Christmas campaign: Tesco is launching a Christmas campaign that will "treat Christmas as a feeling, not a season" as part of a switch in strategy for its winter marketing from last year's 'Big Price Drop'. (Marketing, Thursday 1 November)
The Top Ten Most Shared Stories on Twitter
How often should brands Tweet New research looking at the Twitter activity of major brands to work out what the effect is of increasing the frequency of Tweet on response levels. (The Wall blog November 2).
Branded content: A game-changer for brands Branded content is driving a whole new marketing model, which calls for a more integrated approach in the region's hyper-connected markets. (The Wall blog November 2).
Unilever unveils six-month 'live social experiment' to fight food waste: Unilever is launching a novel marketing initiative that will involve families reducing their food bills and household rubbish, with the findings being fed into Unilever's future marketing plans. (Marketing, Thursday 1 November)
The good, the bad and the ugly of social media during Superstorm Sandy The devastation of Superstorm Sandy (also dubbed Frankenstorm) is still being felt across much of the east coast of America, it claimed more 66 lives in the Caribbean before making its way to the US, where the death toll is now over 70. (The Wall blog November 1).
Why aren't retailers maximising marketing on facebook Facebook clearly know that they are suffering in terms of driving people to purchase as a result of seeing a link/post on the site. They are looking at every angle which turns out to include using the button "want". (The Wall blog November 1).
How social media reacted to the $4bn Star Wars Disney deal Most of us woke up this morning to hear the news that George Lucas had sold his film company, LucasFilm, to entertainment giant Disney for $4.1bn (£2.5bn), and a new 'Star Wars' film is planned for 2015.
(The Wall blog October 31).
Tesco relaunches YouTube channels Tesco has relaunched and simplified its YouTube channels as part of a wider strategy to produce a coherent and unified social media strategy.brandrepublic. (Marketing Ocober 31)
American Apparel causes Twitter outrage with 'Hurricane Sandy Sale' When will brands ever learn? Do people not use the internet and read stuff? (The Wall blog October 30).
Three Myths of social media ROI [infographic] Despite how far we have come in social media and its exponential growth ROI still remains one of, if not the biggest, challenge that marketers face when it comes to using social. (The Wall October 29).
So'Stupid rivalry' between TV & internet is over, says Thinkbox's The TV and internet industries are "working together much more closely," says Tess Alps, executive chairman of commercial TV advertising trade body Thinkbox. (Brand Republic October 30)