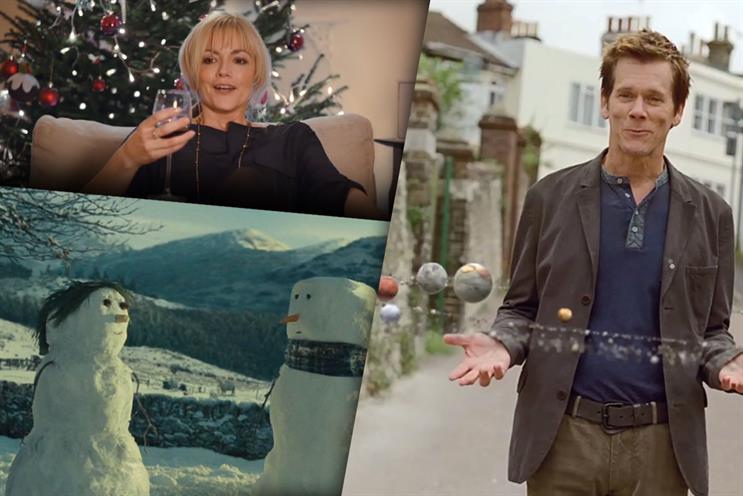 The first working week of November signalled the start of festive marketing activities for many high street stalwarts, all eager to be top of mind and underline their offerings over the coming few weeks.
Following its multi-award winning hit of 2011, this year's Christmas TV ad from John Lewis commanded attention across the board. 'The Journey' by Adam & Eve/DDB, launched initially via John Lewis' Facebook page and on Campaign and Brand Republic, ahead of its TV showing on Channel 4 (Campaign, 9 November).
The 90-second spot follows the romantic quest of a snowman who is looking for the perfect present for his snowwoman. Initial reaction via social media seems to be largely positive, has the retailer and Adam&Eve/DDB done it again?
One thing we know for sure, John Lewis' sibling retailer Waitrose has chosen a different tack, with its 'unglamorous' Christmas TV spot enabling it to donate £1 million to charity instead (Marketing, 6 November). The supermarket's detailed explanation about the virtues of avoiding profligacy is likely to make this winter's JL Partnership board meeting a frosty affair.
Rival Asda, meanwhile, has issues of its own as Fathers 4 Justice encourages people to complain to the advertising watchdog for its seasonal push, claiming its strapline "Behind every great Christmas there's mum and behind mum there's Asda", is undeniably "sexist" (Campaign, 6 November).

EE, the brand recently known as Everything Everywhere, continues to catch the attention too with its first multi-million pound TV campaign by Saatchi & Saatchi starring Hollywood A-lister, Kevin Bacon (Campaign, 2 November).

Marks & Spencer went for a music video approach for its Christmas ad, following up last year's effort featuring the 'X Factor' contestants (Campaign, 6 November).

Debenhams' first Christmas campaign in six years also has a touch of the John Lewis treatment about it, depicting the story of a young woman on her journey home to the country with an evocative soundtrack (Marketing, 5 November). The ad, created by JWT, is a marked step-change from its last festive campaign in 2006, which featured a dancing Father Christmas.
Meanwhile, a reminder of the prevailing challenging economic conditions as 2012 nears its end came with the news that the future of former high street electronic favourite, Comet, now hangs in the balance, along with nearly 7,000 jobs (Marketing, 2 November).
One person whose fate is now known is George Entwistle, the director general of the BBC, who was forced to resign from the UK's top media job after just 54 days following the crisis over false child abuse claims on flagship current affairs programme 'Newsnight' (Media Week, 10 November).
Tim Davie, the former BBC director of audio and music and incoming BBC Worldwide chief executive, is now acting director general until a successor is found. Whether another internal or external candidate is preferred remains to be seen, but the troubles for dear auntie remain far from resolved.
In PR, the latest leaking of text messages between David Cameron and Rebekah Brooks are being held up as proof that the Prime Minister's reputational damage is set to 'run and run' (PR Week, 5 November).
Across the pond, President Obama's US election victory has been attributed to his investment in advocacy-based campaigning on the ground (PR Week, 7 November). "He's won the electoral college by a long way, " said Blue State Digital's Rob Blackie. "That's a result of his good work at targeting."
The most shared stories on Twitter

1. Obama's Victory Tweet most shared in History - The Wall

2. The John Lewis 2012 Christmas TV ad

3. Mad men and lousy copywriters: a writing guide for bloggers - The Wall

4. John Lewis Christmas ad is given an Ann Summers spoof - BR News Blog

5. The ads that helped Obama win - The Wall blog

6. Twitter plans to add photo filters to compete with Instagram - The Wall blog

7. Social media statistics 2012: from Facebook and Twitter to Instagram and Pinterest [infographic] - The Wall

8. Microsoft creates giant slide to promote 'fast and fun' Windows 8 - Marketing

9. How to guarantee your video will go viral - The Wall blog

10. More than half of world's top brands are now on Instagra
Follow @DurraniMix