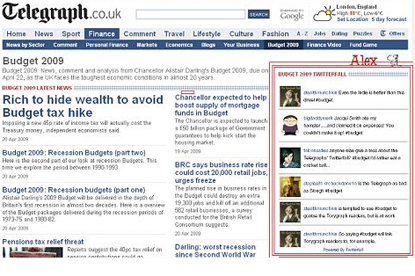 The Telegraph set out to stream any Twitter Tweet that included #budget on to a section called "Budget 2009 Twitterfall" on its Budget page.

However, inappropriate comments soon came flooding in, such as "Jacqui Smith ate my hamster… and claimed it on expenses! You couldn't make it up! #budget" and "Telegraph w**nkers #budget. Didn't work."

The Budget 2009 Twitterfall has currently been taken off the website (attached pic courtesy of the FT's Alphaville blog) and The Telegraph would not confirm when it will be going live again.
A spokeswoman said: "We will definitely use Twitterfall like this again, just as we used it so successfully during the G20 summit. It is one of the pitfalls of social media, but this is the work of pranksters – not hijackers!"